Survey says Amazon offers the best mobile shopping experience
7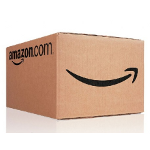 The results are in and ForeSee's first Mobile Satisfaction Index has Amazon on top as
the company offering the best mobile shopping experience
. The index, based on a survey of customers, asks them to score mobile sites on metrics like sales, recommendations and loyalty. Amazon scored 84 out of 100 to finish first. Right behind with a score of 83 is Avon. That seems a bit odd for a company that still relies on door-to-door sales for a large chunk of its business. Apple finished third with a score of 82.
4,500 customers were surveyed by ForeSee in August. The survey showed that those using a retailer's app were a
tad more satisfied
than those using the same retailer's mobile web site by a score of 80% to 79%. But only 32% of mobile shoppers were using an app as opposed to the 68% that used the mobile web site for their purchasing. Netflix had the largest percentage of shoppers using its app with 59% of visitors to the streaming video site preferring to use the app over the mobile web site. Other leaders in app use include eBay (53%), Groupon (52%) and Walgreen's (48%).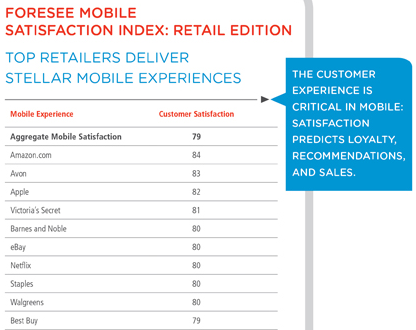 Some of the top mobile retailers based on satisfaction score
Customers already familiar with a company were more satisfied dealing with them than those who were driven to a company via a link, search or shopping comparison site. Actually, making a purchase was not the number one reason for users to use a retailer's app or mobile web site. 28% visit a retailer's mobile web site or app to get details on a product, 19% use either one to get a price while 17% are checking stock at a store. 76% of those surveyed use a smartphone while 24% used a tablet when accessing the retailer's app or mobile web site.
According to ForeSee, measuring customer satisfaction is important as it is a forward looking indicator of future purchases. 69% of satisfied customers are more likely to make a purchase using their mobile device while 72% of satisfied customers are more apt to recommend the company to friends. 58% are more likely to return to the retailer's mobile web site or app. The top 20 retailers had an aggregate satisfaction reading of 79 with ToysRUs in last place with a score of 76.
"Satisfaction is the most important customer metric companies can track because it is forward looking and a key driver of behaviors retailers care most about: purchases, recommendations, and loyalty. The ForeSee Mobile Satisfaction Index will be measuring other industries with a strong mobile presence, establishing a uniform benchmark for the mobile experience and indicating which companies need to do more to increase satisfaction that will result in desired consumer behavior that impacts the bottom line."- Eric Feinberg, ForeSee Senior Director of Mobile, Media & Entertainment
source:
ForeSee
via
FierceMobile