Survey reveals why today's daters like to use text messages
9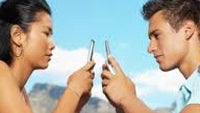 Mobile technology has changed many things we do, so why wouldn't it change the dating world?
USA Today
took a survey of 1500 daters aged 21 to 50 to see how devices like smartphones have changed dating. About a third of both men (31%) and women (33%) find that it is
less intimidating
to ask for a date via a text message as opposed to asking someone out in person.
Let's say you are sending a text to someone you're dating or want to date. How long should you expect to wait for a response? 25% say a response in that situation should not take longer than one hour. 10% expect an instant response or a reply within minutes. Are men more self conscious than woman? More men (44%) than women (37%) say that mobile devices make it easier to flirt and get to know someone. On the other hand, the study also showed that women prefer texting more then men because 'talking takes too long'.
Clinical psychologist Beverly Palmer, who is also a professor at California State University-Dominguez Hills, says the lack of intimacy involved in texting makes it easier to end relationships. She says, "
In texting, a man can pull back quickly if he gets rejected, and it's easier to say 'no' to the guy because you're not having to confront the guy
."
"People are uncomfortable using the phone. A text message is easier. You can think exactly what you want to say and how to craft it. When they are face-to-face or over the phone, there's this awkwardness."
-Ruthie Dean, co-author, Real Men Don't Text
"Often if I call, I get a text back saying, 'What's up?' I find that people not only prefer texting but have no problem making it blatantly clear that they only want to handle the conversation by text."
-Drew Johnson, 30
A survey conducted by ChristianMingle.com and JDate.com found that 38% of those in the 21 to 26 age bracket use text messages to plan their dates. That figure drops down to 43% for those in the 43-50 age bracket. A quarter of those age 21-26 use their mobile device to try to find out information about someone they are going to go out with. That drops down to 14% for those in the 43-50 age bracket. That could be due to age making someone more comfortable about going out on a date, or it could be that in that age group, mobile phone users don't have the same know-how as younger people do to find information about someone on a mobile device.
source:
USAToday