Surprise! iPads don't improve education unless you teach with them properly
27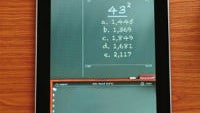 For a while there, iPads were having a great run as the go-to tech gadget for classrooms, at least until Chromebooks came around and people remembered that keyboards are helpful for a lot of schoolwork (the lower cost likely helped too). But one school district is giving iPads credit for a significant rise in graduation rates over the last five years. In the Coachella Valley Unified School District, a $42 million program supplied iPads to all 20,000 students in 2011 and the superintendent claims that effort directly led to an increase in graduation rates from 65% in 2011 to 82% last year.
Of course, not everyone is so convinced. According to a Wall Street Journal report, the Organization for Economic Cooperation and Development said students who use tablets and computers heavily actually tend to underperform compared to those who use them moderately. And, University of Michigan professor Elliot Soloway said classroom computers don't help because schools bring in the technology without changing the curriculum or teaching methods.
Apple wants to improve the situation though, and has been sending employees to each school for 17 days per year to train teachers, recommend apps, and help prepare lessons and teaching techniques. Additionally, the report says Apple is providing each student at 114 schools with an iPad, teachers with iPads and MacBook computers, and classrooms with Apple TVs. Some schools have seen Apple build Wi-Fi networks.
The efforts by Apple have been touted as unprecedented, so we'll have to see if they pay off.