Surgeon Simulator, the bloody and sadistic medical splatter-fest, will cut its way to Android tablets soon
5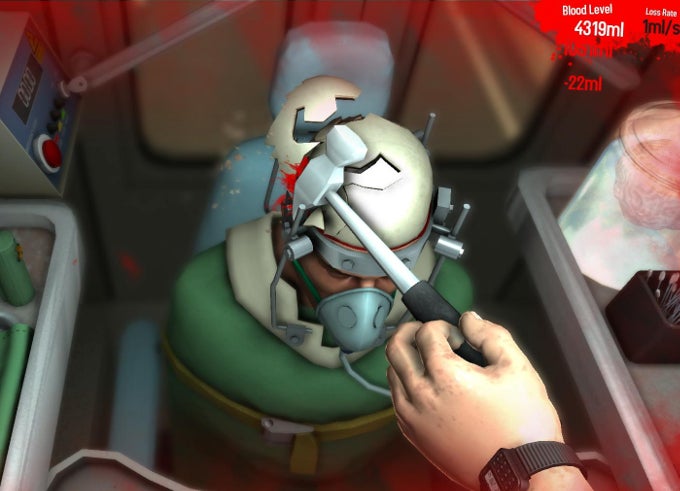 One of the latest trends in the gaming industry commands that simulator games have to flaunt silly, but downright-funny physics and a moderate amount of excessively dark humor. One of the representatives of this recent drift is the (extremely) gory and (relatively) comical Surgeon Simulator, a game that initially launched for PC, but received an iOS version due to its ever-growing popularity among gamers. iPad-toting surgeon-wannabes have been procuring fatal and crippling operations on their devices for several months now, but the Android platform has been left out of the equation (or should we say "operation"?).
Things are about to change, however, as Surgeon Simulator is expected to land on Android on August 14, in a week's time. The blood-soaked game will be initially available on tablets only, and it's unknown if it will make the jump to Android phones.
This means that you have just a week to learn the difference between a lobotomy and laparotomy, distinguish dilators and specula from clamps and retractors. Not that this will help you in a regular game of Surgeon Simulator, not at all. The extremely clumsy and cloddish protagonist, Nigel Burke, has surely cheated on his general surgery qualifying exam, as his uncoordinated and gawky movements would definitely suit a lumberjack more.
So,you've come for a safe and routine surgical procedure? Well, that's cute, but just lie on Burke's operating table and your life's immediately put into danger – his patients usually don't last more than a few minutes. The regular causes of death are dismembering, blood loss, intestine laceration, decapitating, and many, many others.
Sounds like pure fun, doesn't it?
Download: Surgeon Simulator (
iOS
)
source:
Pocket Gamer