Sundar Pichai talks about Google getting closer to Samsung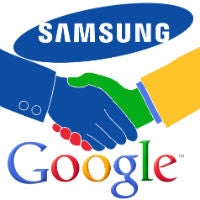 A while back, there were stories about how Google was
getting fed up
with how Samsung continued to bury Android and Google services deeper and deeper on its mobile products, like with the new Magazine UI. The reports made it sound like a fight (as reports usually do with the two companies), but now Sundar Pichai is giving his side of what went down.
Of course, Pichai's side of the story leaves plenty of questions. He told
Bloomberg Businessweek
that the relationship between Google and Samsung had "more distance than I would like in a partnership", so he took a trip to South Korea to establish "a closer, more direct line of communication." That's about all he said. So, Pichai didn't comment on what was talked about, but that meeting was likely the first of many, because that happened back in April of 2013. It wasn't until earlier this month that Samsung began highlighting
Google Play content
on device homescreens.
Pichai did talk a bit about Tizen though, and waved away any issues of trouble between Google and Samsung. In his view, the best way to keep Samsung from abandoning Android for Tizen is simply to make Android "the better choice". The implication seems to be that if users prefer Android to Tizen, Samsung will have to stay loyal to Android. That may be true.