Stupid criminals of the day: teens go to an Apple Store to bend an iPhone and post it to YouTube
99+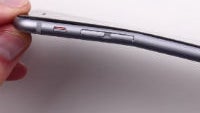 Maybe this is the story that will finally cause #bendgate to jump the shark (fingers crossed). The Internet has no shortage of stories recounting the tribulations of stupid criminals (our fav are the guys who used permanent marker to draw "masks" on their faces for a robbery), and now two teens from the UK have joined the ranks with their YouTube video bending the iPhone 6 Plus.
There has been no shortage of iPhone 6 Plus bending videos (far more than there have been actual complaints from customers about the issue), but they all had one thing in common: they were using purchased iPhones. In a new video, two 15-year olds - Danny and Kylie - decided that buying an iPhone was for suckers, so they just went to an Apple Store and bent an iPhone themselves, then posted the video (with no attempt to hide their identities) on YouTube. The video actually might do more to prove that bending an iPhone isn't as easy as some claim, because it takes the pair a few tries before they find the
sweet spot
where the amount of pressure needed to bend the iPhone is at its lowest.
But, the worst part is that the boys knew exactly what they were doing, saying:
If we got caught, we'd end up paying for the phone, so we had to get out of there quite quick...
It was completely one of theirs, which is awesome to think. The reason why we were laughing a lot of the time is just because it was really funny; we were in the Apple Store bending and breaking their iPhone...
That's, like, criminal damage, I guess.
It is unclear if Apple will actually pursue the boys, given that what they did is indeed illegal. But, for whatever it's worth, the two did eventually realize the error of their ways and posted an apology video. Although, the change of heart wasn't fully formed. In the apology video, Kylie says that he and his friend Danny are willing to pay for the damaged iPhone, but only if Apple contacts them directly to collect. That doesn't sound quite like true repentance.
We don't want to give these kids the YouTube hits, or aid in giving any copycats the idea, so we're not embedding the video here. If you really want to see it, we're sure you can find it.