Steve Jobs memorial service held, the nation's elite gathers to honor the visionary
5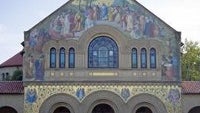 Silicon Valley's most prominent ones headed to Stanford University's Memorial Church on Sunday evening, all gathering to pay tribute to Apple's chief executive
Steve Jobs
. The iconic CEO passed away last week at the age of 56, losing a lengthy battle with cancer.
The
memorial service was private
, just like everything Apple - walled off from the public's eye. The Stanford area was heavily populated with police and security when black limousines started arriving.
Tim
Cook
, who took over the company after Jobs announced his resignation, was one of them, accompanied by a man wearing a Buddhist garb, and they both walked into the chapel. Steve Jobs was known for also practicing Buddhism. Apple's iOS software guru Scott Forstall was also there.
Those in attendance were from various backgrounds including politicians like former president Bill Clinton, musicians like U2's Bono and news media elite like News Corp's chief CDO Jon Miller.
The service was held right after the launch of the iPhone 4S, the last product to get closely linked to the name of Steve Jobs. Its sales were booming, breaking all records with
1 million pre-orders sold on day one
, and long shipping times showing a huge demand for the new iPhone. There's nothing to replace a human, an executive and a visionary like Jobs, but the 4S success looks like a good tribute.