Steve Jobs "expected" to appear at the iPhone unveiling tomorrow
39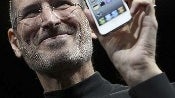 Reports about Jobs
"expected"
to appear on stage first surfaced on Reuters today, but at the same time the same report precautions that even if the iconic CEO doesn't show up, it won't be a huge disappointment.
"Investors would like to see Steve Jobs to confirm that he is still involved, but we have dealt with the fact that he's not going to be as involved,"
Capitol Advisors Growth Fund manager Channing Smith said.
"We'd love to see an appearance but it's not critical."
In August, Jobs announced he's stepping down as CEO in an official letter published on Apple.com. Earlier, in March, the former Apple chief executive appeared to announce the iPad 2, despite being on a medical leave, so there are chances that he could be on stage tomorrow as well. Would this make a huge difference for you?