Steve Ballmer starts tweeting using an Apple iPhone? (Nope, it's a fake account)
99+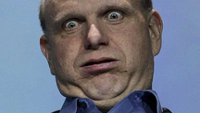 UPDATE:
Well, it seems that perhaps Steve Ballmer still feels the same way toward the Apple iPhone as he did in the 2007 video below. The Twitter account @MicrosoftSteve had nothing to do with the former Microsoft CEO and has been suspended.

Now that former Microsoft CEO Steve Ballmer is no longer sitting behind a big desk at company headquarters, he is free to use any smartphone he chooses. Still, you would think that since he still does own 4% of Microsoft, his natural inclination would be to go with a Windows Phone powered handset. And considering that he was running the ship when
Microsoft announced the acquisition of Nokia Devices and Services
, we could pin it down some more and say that Mr.Ballmer could be expected to use a Nokia Lumia model.
Thus, it was surprising to see a new Twitter account that seemingly (and we aren't taking that word lightly) belongs to Steve Ballmer (@MicrosoftSteve), sending out some tweets using the Twitter for iPhone app. One of those tweets contained a selfie, showing Mr.Ballmer.
If this is legitimately Steve Ballmer's Twitter account, and he is using the iPhone, it would be ironic considering that back in 2007, he dismissed the newly launched touchscreen smartphone because of its price, and lack of a keyboard. In the video below, you'll hear Ballmer talk about Microsoft having its mobile strategy in place as he promotes the features on the
Motorola Q
.
Earlier this year, Ballmer admitted that he wished that
he could have the last decade back so that he could focus more on mobile
. But since there is no such thing as a time machine, Microsoft's former CEO needs to look ahead. Windows Phone grew nicely last year, and with Windows Phone 8.1 soon to be unveiled, there could be some further momentum for
the platform that was first launched under his watch
. So why is he using an Apple iPhone?
source:
@MicrosoftSteve
via
Gizmodo