Steve Ballmer bids an emotional, teary goodbye to Microsoft (video)
23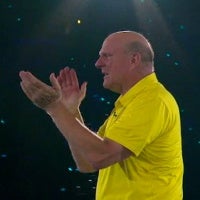 Microsoft's departing chief executive officer Steve Ballmer is known for its often eccentric keynote appearances, and now he's given his departure speech where he let all his emotions out. Emotional, weeping, thanking the thousands of employees, the man who ran Microsoft for the last 13 years showed how much it meant for him.
The Microsoft CEO stressed that this is not about one man's departure - it is about Microsoft and its ability to innovate, its unique strengths. As Ballmer talks, you can hear people shouting back with affection.
Microsoft has announced that it will take 12 months to find a worthy successor to Ballmer and the shortlist seems to be headed by Nokia's and ex-Microsoft's Stephen Elop who might return to the company. We're yet to see how this all plays out, but you can see one more video of an extremely emotional Ballmer dancing as if nobody's watching right below.