Star Wars: Commander arrives on iOS, puts the rebels against the Empire Clash of Titans-style
3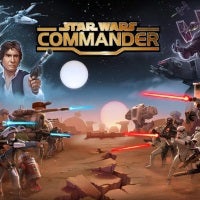 What could be better than playing Clash of Titans? Playing it with Star Wars characters! Although it borrows heavily from the former's established formula, the newly released iOS title Star Wars: Commander differentiates by letting players side with either the Rebel Alliance (you know, the good guys), or the Galactic Empire (the planet-destroying baddies). Depending on your choice, you will meet Solo, Chewy, and Leia on the battlegrounds, or fly TIE fighters and choke-hold stormtroopers.
In addition to two factions, the game has an actual storyline designed to tap a "broad audience of Star Wars fans". It takes place between Episodes IV-VI as the Galactic Civil War rages on in a galaxy far, far away. Old faces and characters from the expanded universe will be coming along for the ride, which starts on Tatooine and could end wherever Disney Interactive deems it fit. The game will be regularly serviced with new content, which will include new planets and missions.
Being a contestant for Clash of Titans's top-tier place in the App Store, Star Wars: Commander is a free-to-play title, but Disney promises there are certainly no elements of "pay to win", and all story content, PVP campaigns, time-limited campaigns, and free missions are available sans paying. To ensure equality between players, the game matches them by skill level, so if somebody levels up faster by virtue of in-app purchases, the game will put them against players of matching skill.
All things said, Star Wars: Commander is available in the App Store. An Android version is supposed to arrive in the coming weeks.
Download Star Wars: Commander:
iOS