Stainless steel Lumigon T2 with boutique audio coming soon to put the big Android boys design efforts to shame
9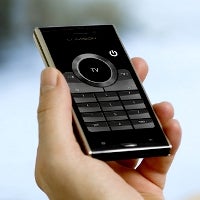 Stainless steel frame and hardened PDV coating are the design hallmarks of
Lumigon T2
- the second edition of the
Danish phone maker Android efforts
. Available sооn, the T2 also offers the ICEPower sound technology from the boutique electronics maker Bang&Olufsen inside, coupled with the tailored in-ear headphones for best in class music experience.
Lumigon is banking on portability and ease of use with the design, as they shy away from the big-screen Android flagships of late with a 3.8" 480x800 pixels unit, protected by Corning's Gorilla Glass 2. The processor is a ho-hum 1.4GHz Snapdragon S2, meaning the T2 has probably been in development since early last year, but there is no perfect happiness.
There are also a number of small touches that make the Lumigon T2 stand out in the plasticky Android crowd, besides the stainless steel design. An infrared is included, allowing the phone to serve as universal remote control for your home TV or stereo, and a programmable physical button above the screen allows you to launch an app or call someone even when the phone is locked, and with gloves during the winter.
As for software, there also little things to make life easier in there, such as the Vault encrypted area, which can securely store your texts, emails and notes you won't like the world to see, accessible only via a password. An 8MP BSI camera sensor that does 1080p video with dedicated shutter key round up the Lumigon T2 offering, which makes us wish more Android makers paid attention to design. Lumigon is finally putting a date for release out, and it is "after the summer", so September is as good a guess as any. The SIM-free price is likely to be in the range of $700-$800, because exclusivity doesn't come cheap.