Square Enix launches Deus Ex Go for Android and iOS
3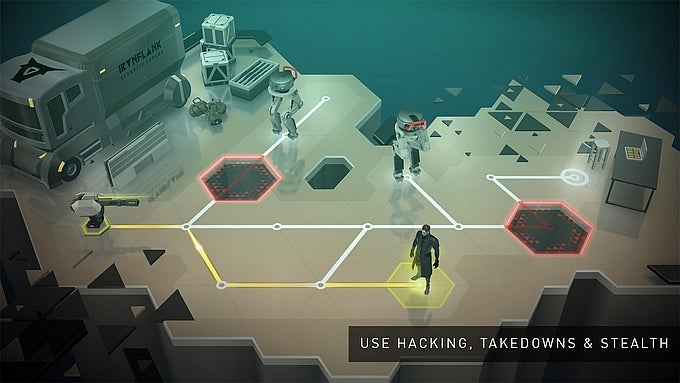 After being unveiled by Square Enix back in early June, Deus Ex Go landed today in the Android and iOS app stores.

This is the third 'Go' title that Square Enix launched for mobile devices. Following turn-based 'Go' versions of Hitman and Tomb Rider, the new title introduces the mobile gamer to the dark futuristic universe of Deus Ex.
In case you haven't played any of the relatively buggy Deus Ex first-person shooters, the setting is a near future where mankind has taken a bit too fondly to genetic enhancement and cybernetic body augmentation. Taken to the extremes, these newfound passions have allowed regular humans to achieve superhuman powers and computer-like information processing power.
Both Hitman Go and Lara Croft Go felt like more than mobile cash cows for legendary gaming universes. The signature mechanic of the series is definitely new: users need to think out the plan of action and make the right decisions in order to reach their goal, as opposed to the action-first mechanics of the original games. Thankfully, though, Square Enix figured out a way to do this while still paying homage to the atmosphere of the original games.
With Deus Ex Go, the game recipe appears to be largely the same: infiltrate buildings using the main character's augmented powers, solve a ton of puzzles, and watch the story unfold throughout 50 missions.
While the mechanics adhere to the Square Enix Go philosophy, the atmosphere will be highly familiar to Deus Ex fans. This naturally includes the story, but the graphic style also deserves a mention in this regard. Speaking of the Deus Ex PC series, earning points in Deus Ex GO will unlock goodies in the upcoming Deus Ex: Mankind Divided, which is a respectable nod towards the hardcore fans of the series.

Deus Ex GO is available now from both the Google Play Store and the Apple App Store. It is priced at $5, but also includes some in-app purchases.