Sprint's Samsung Epic 4G Touch torn down with no epic efforts
5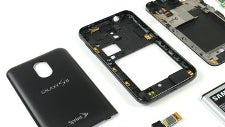 Sprint's version of the Samsung Galaxy S II, the
Samsung Epic 4G Touch
, is the first of the second galactic family to arrive stateside and it has already been torn down by the crafty folks from iFixit. The reason? Checking out its repairability, internals and just for fun. The result? iFixit gave the Epic 4G Touch a decent repairability score of 7 out of 10.
There were no shocking revelations with this handset - actually it seems to be pretty
easy to disassemble
, held together mostly by Philips #00 screws. Luckily, it's future proof with an easily removable battery and when you lift open the back cover, you can also access the microSD card slot.
Digging deeper down however reveals a big nuisance for those attempting to
replace a broken screen
on the Epic 4G Touch - the glass panel and the LCD display are fused to the midplane. There's also the fact that components like the front facing camera and the ambient light sensor lie on the same ribbon cable, which would mean that you'd have to replace both instead of just one, ultimately ending up in higher repair cost.
Check out the
step-by-step teardown
below to get intimate with the internals of one of the best Android handsets around and feel free to share whether you found something interesting or surprising.