Sprint is getting to be more and more like T-Mobile every day
3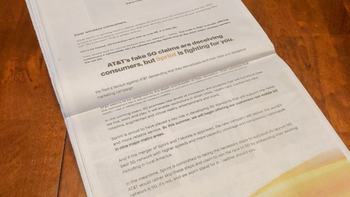 AT&T found a clever, and misleading, many people say, way to get ahead of the field on 5G. By taking its 4G LTE network and increasing the number of connections between a cell tower and phone (4 X 4 MIMO), packing more data into signals (256QAM) and widening a "data lane" (carrier aggregation), the carrier can offer data speeds twice that available on 4G LTE. AT&T calls this 5G Evolution and
added a "5G E" icon on the status bar of its handsets
that are connected to this network.
Some might consider this to be just plain wrong since most consumers have no idea what 4 X 4 MIMO, or 256QAM is. And when they hear about 5G Evolution and see the 5G E icon, they must think that they are enjoying 5G data speeds, which is hardly the case. Sure, 5G Evolution does feature enhanced 4G LTE service, but do AT&T's customers know this?
Last month,
Sprint filed a lawsuit against AT&T
, claiming that its rival used "numerous deceptive tactics to mislead consumers into believing that it currently offers a coveted and highly anticipated fifth-generation wireless network, known as 5G."
Spotted by Ars Technica
, over the weekend Sprint did something that it might have taken from the T-Mobile playbook (both firms are waiting for regulatory approval to merge). It took out a full page ad in
The New York Times
correctly stating that AT&T's 5G Evolution is not 5G. The ad also notes that AT&T seems to have taken some delight in deceiving the public.
"Dear wireless consumers,

While Sprint is working hard to deliver mobile 5G and the first 5G smartphone in the US, AT&T is hard at work trying to convince you that they already won the race to 5G with something they call "5G Evolution." That is simply untrue.

Don't be fooled. 5G Evolution isn't new or true 5G. It is fake 5G. They would love for you to believe they are different... better. The truth is AT&T is simply offering customers a nationwide 4G LTE network just like Sprint and all the other major wireless carriers. It's not 5G.

We filed a lawsuit against AT&T demanding that they immediately end their false and deceptive marketing campaign.

AT&T seems to be delighted by the depth and breadth of their deception. AT&T admitted that the company's 5G E advertising is strictly a narrative to outline how they want the world to work—not a reflection of today's reality."-Sprint
Ironically,
AT&T did launch mobile 5G service in 12 markets back in December
. This service uses a Netgear Nighthawk mobile 5G hotspot to connect to the wireless provider's 5G network. A limited number of subscribers are receiving a free 90-day free trial. AT&T says that when it does offer the service next quarter, the Nighthawk will cost $499 and 15GB of 5G data will be priced at $70 a month.
Meanwhile, Sprint is not allowing AT&T to get off scot free with its 5G Evolution deception by challenging AT&T in the court of law and in the court of public opinion.