Sprint to launch 4G handset number two on August 20th with the Epic 4G?
This article contains unofficial information.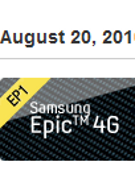 It might not seem fair to customers of other carriers, but if the past is any guide to the future, we could see Sprint launch it's second 4G model on August 20th with the release of the Epic 4G. The handset is the carrier's variant of the Samsung Galaxy S Pro. Unlike the Galaxy S, the "Pro" version features a landscape sliding QWERTY keyboard. You would have had to be living under a rock to have missed the nation's first 4G device, the EVO 4G which is available through Sprint.
Here is how the possible August 20th launch date was guessed at. Samsung TV showed a video for AT&T's Galaxy S model, the Samsung Captivate, on July 19th-the first business day following the official July 18th launch, which took place on a Sunday. The video for the Samsung Vibrant, T-Mobile's Galaxy S variant, was displayed on July 21st. Yes, the Vibrant was launched on the 15th, but the original launch date was the 21st as you might recall, and was
moved up to match the release of Verizon's Motorola DROID X
. Follow so far? Now we see a video for the Epic 4G set for August 20th. More than a coincidence? In the meantime, Samsung sent out a tweet yesterday saying that the Epic 4G is arriving in a few weeks. For those of you who passed up on the EVO 4G to see what else Sprint had up its' sleeve for its' WiMax pipelines, you could be just a few weeks away from a launch of Epic proportions.
Samsung Epic 4G Specifications
source:
AndroidPolice