Sprint revises down HTC EVO 3D video capture specs; party with the EVO 3D and Radio Shack
5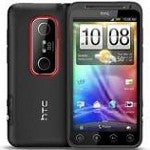 typo
in the specs sheet for the HTC EVO 3D made it appear as though the phone could record and playback video at 1080p in both
2D
and
3D
. Sprint announced the correction on Thursday, saying that the specs sheet should say that the HTC EVO 3D can capture video up to
720p
and playback up to
1080p
in both 2D and 3D. The model still offers playback at the higher resolution, so we wouldn't imagine that this would be a dealbreaker for anyone.
As we
reported
, the HTC EVO 3D is expected to launch on June 24th at a price of $199.99 with a 2-year contract. On the
eve
of the launch, Radio Shack is having a party in Los Angeles from 8pm to 11pm PDT. A surprise
guest performance
is listed on the bill and it seems that the Green Hornet's car, the Black Beauty (no, not the BlackBerry!), will be featured. There is one major miscue on the invitation-there is no address listed. We know that there is more than one Radio Shack in LA, so you might want to check the
yellow pages
to see which location will be hosting the festivities.
source: AndroidCentral (
1
), (
2
)