Sprint CEO Hesse says that buying T-Mobile will help consumers
28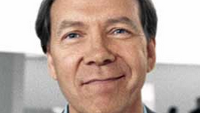 Sprint CEO Dan Hesse was interviewed on Bloomberg TV Tuesday, and was asked about Sprint's long-rumored deal to purchase T-Mobile. With U.S. regulators dead set against the transaction, you would think that Sprint and SoftBank would take their marbles (and by marbles, we mean cash) and go home. Instead, led by Sprint chairman Masayoshi Son, discussions with the banks continue. Sources knowledgeable with Sprint and SoftBank's plans, say that a bid for T-Mobile will be coming in June or July.
Hesse told Bloomberg that the current price wars can't last forever. And he also said that a stronger number three carrier (a combined Sprint and T-Mobile) would force Verizon and AT&T to be more aggressive, which would benefit everyone. Hesse adds that a weaker number three, won't put the kind of pressure on the nation's top two carriers to do the things that would be required to help consumers.
"T-Mobile and Sprint have to invest more per customer in their network. Think of a nationwide network, it largely affects costs. It is like a jumbo jet. AT&T and Verizon, because of their size, can put more customers on that, and divide it among more customers and can spend more money on advertising"-Dan Hesse, CEO, Sprint
The most recent rumors suggest that a combined Sprint-T-Mobile would be run by the latter's outspoken CEO John Legere. And that suits Dan Hesse just fine. "I am 60 years old," he says . "I have a lot of things I still want to do in life."
source:
Bloomberg