Sprint CEO Dan Hesse says that recent price increases were necessary
38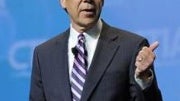 Sprint has been receiving a lot of press lately, primarily for their criticism of the AT&T/T-Mobile deal. But they've also continued their impressive rise in
customer satisfaction
ratings, now tied for first with Verizon. But it's still hard for customers to be satisfied with increasing prices.
In January, Sprint added a
$10 charge
to their smartphone plans, and lengthened the time necessary to receive a fully discounted upgrade. But Sprint CEO Dan Hesse used the J.D. Power technology conference as an opportunity to address the price hikes: "Any time you increase prices you are not going to get a lot of high fives from the customer."
Hesse explains that the price hikes were necessary to continue to offer 'truly unlimited' service,
without instituting data caps or speed throttling
. We can't speak for everyone out there, but we'd rather pay an extra $10 per month, and
know
that we won't have our service limited just because we're addicted to mobile data.
Regarding their impressive
American Customer Satisfaction Index
scores, Hesse says that Sprint is proud, but the fact that people are surprised "tells me we've still got a lot of work to do on the brand."
source:
Wall Street Journal