Spotlight: Kraken Attack is all the boat-destroying fun you can handle on a lazy office afternoon
1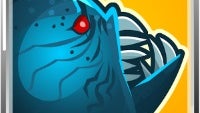 Some days at the office are insufferable. You simply want to let go of everything and release the Kraken upon your surroundings. You want to wreak fiendish havok on the innocent ships that made the naive mistake of sailing in your waters, drag their crew to the bottom of the ocean, and raise legendary terror upon the whole of humanity!
This is what Kraken Attack lets you do, albeit in a more tame, adorably cartoony manner. Once you hit play, you immediately take control of mr. K, the horrifying ocean-dwelling monster, and get all chomp-y, bite-y on the ships and planes travelling above you. You can swim farther down the waters, kiss the ocean's bottom, and propel yourself into the blue sky, latching onto incoming planes with your sharp teeth. Oh, what a great time to be the Kraken!
Now, truth be told, Kraken Attack isn't anything special as a mobile game. It mostly revolves around destroying ships and planes for fun and profit, followed by bragging about your score in the online rank list. But what the game is great at is delivering quick five-minute-maybe-less jolts of holding the Kraken's reins and going crazy. Sometimes a bit of dumb monster fun is all you need in your life!
Kraken Attack is free and ad-supported. Unfortunately, it's not on iOS, but its developers from Csharks have plenty of other games that are worth checking out.