PayPal offers discount gift cards for Spotify Premium individual accounts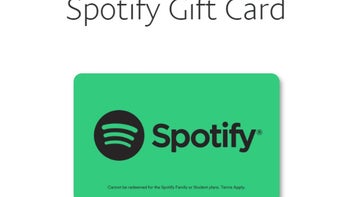 Spotify Premium deals are hard to come by, even during the holiday season or other special events like
Black Friday
and Cyber Monday. Not to mention that most of the time the best Spotify deals target new customers, not those who are already paying for a Premium subscription.
That makes PayPal's new special offer on Spotify Premium extremely tempting. Now, this isn't the kind of deal that will save you a lot of money, but it does allow you to save some even if you're a Spotify Premium users.
For a limited time or while supplies last,
PayPal offers 16% off the $60 Spotify gift card
. Basically, this means that you can buy the $60 Spotify gift card for just $50, so you'll be saving $10. The catch is that it's only valid for individual accounts, so you can't redeem it on Family plans or Student plans.
Of course, if you're a new customer, you'll have to register for a Spotify account. If you already have a Spotify Premium subscription, you can redeem the card and have your next monthly fees paid from the amount gained from the gift card ($60).
Recommended Stories