Spigen teaser confirms new Rose Gold color option for the Apple iPhone 6s and Apple iPhone 6s Plus
99+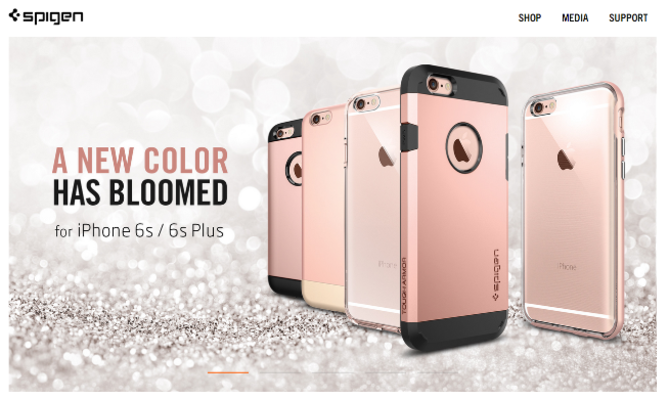 Spigen teaser confirms new Rose Gold color for the Apple iPhone 6s and Apple iPhone 6s Plus
Case manufacturer Spigen confirmed that the
Apple iPhone 6s
and
Apple iPhone 6s Plus
will both be offered in Rose Gold. The company released a teaser showing a new Rose Gold colored case for both new iPhone models. The copy on the teaser reads, "A New Color Has
Bloomed
(itallics added) for iPhone 6s/6s Plus." The color was originally used on some of the high-end Apple Watch Edition timepieces. Unlike the watch, the new Rose Gold iPhone units won't contain real gold in order to keep the price down. Rose Gold Apple Watch Edition models range in price from $10,000 to as high as $17,000.
Meanwhile, on Amazon, Spigen has already posted a long list of cases for both the iPhone 6s and iPhone 6s Plus. We don't see any listings for the Apple iPhone 6c. The rumored plastic-clad model with a 4-inch screen, is not expected to be announced during Apple's media event to be held September 9th in San Francisco.
Besides the new color, the iPhone 6s and iPhone 6s Plus are both expected to employ Series 7000 aluminum to prevent bending. This material, used to produce the Apple Watch, is employed by the aerospace industry. The phones will both be powered by the new Apple A9 chipset, while
Apple has doubled the amount of RAM in each phone
to 2GB.
The rear facing camera will be bumped to 12MP from 8MP
, and we could see a larger battery inside. And don't forget the inclusion of Force Touch. Apple is expected to give the feature a new name in line with its function as a tool to navigate iOS 9 using short cuts.
With the new iPhone units set to be unveiled a week from this Wednesday, you can expect plenty of leaks and rumors as we get closer to the event.
Thanks for the tip!
source:
Spigen (through Amazon
)