Spigen iPhone 5 Skin Guard hands-on
6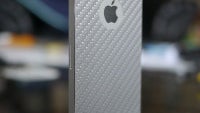 Do you want to add a new level of style to your
iPhone 5
? But don't want to void the warranty by going to one of those mall kiosk stores that offer services to modify the color of the handset's casing? Well, you're in luck because Spigen has one nifty easy-to-apply decal that's sure to turn heads with its carbon pattern. Adding zero bulk, the
Spigen iPhone 5 Skin Guard
is bound to raise a few brows with its stylish appeal – while still protecting it against unwanted scratches.
First and foremost, the Spigen Skin Guard for the iPhone 5 is nothing more than a
giant decal
that covers the smartphone's brushed aluminum rear casing. It's easy as pie to apply too! Essentially, you line up the corners so that it's squared perfectly, then apply a little bit of pressure so that it's firmly intact. And voila! The Skin Guard is installed quickly, easily, and perfectly. Now, the main attraction is found in the
carbon pattern
it's flaunting, seeing that it's able to shimmer when the device is tilted to various degrees.
Although the rear casing of the phone is covered, the front is naturally left exposed. However, Spigen actually includes one of its
screen protectors
with the purchase – so it's protected as well. Likewise, an additional set of plastic pieces help to cover the top and bottom surfaces of the rear casing of the phone. If there's one single complaint that we have, it's that it would've been better if the same carbon pattern decal covered the sides of the handset – thus, giving it complete 360 degree protection.
Naturally, the Spigen Skin Guard is meant to shield the iPhone 5 from scratches, so don't expect it to handle well in the event it's dropped. Overall, there's no arguing about the stylish element that the Skin Guard brings to the beloved smartphone – even more when there's no worry of voiding the handset's warranty. With its
$18 cost
, you get two different Skin Guards – one being a uniform decal, while the other has a circular cutout for the Apple logo. And like we said, the purchase also includes a screen protector.
source:
Spigen
More Spigen iPhone 5 accessories