Specs leak that may be the $99 Nexus 7
19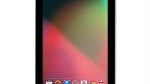 Right off the bat, let's say that the news that is to follow is extremely suspect, and nowhere near fact. As we all know, one of the easiest things in the world to fake is the info you find attached to benchmark tests (which is a major reason why we don't believe for a second that there's really a Sony device out there
running Android 5.0
). Still, there is a new device that has popped up that may be the $99 Nexus 7, specs and all.
The info comes from GL Benchmark, and shows a tablet labeled as "ME172V", which is said to be an ASUS tablet. If this is really the Nexus 7 built to hit the $99 price point, it is listed as having a 1024 x 600 pixel resolution display, 1GHz processor, 1GB of RAM, 8GB of internal storage, and a 4270mAh battery. However, there are a couple odd things about the listing.
First of all, the tablet is listed as running Android 4.1.1, which is a bit old for a Nexus device. It's not even the latest incremental 4.1 update, let alone 4.2 or 4.2.1. The second oddity is that the tablet is listed as having an SD card slot, which is something Google has been moving away from with recent Nexus releases.