Specs comparison: OnePlus 5T vs Galaxy S8+ vs Pixel 2 XL
2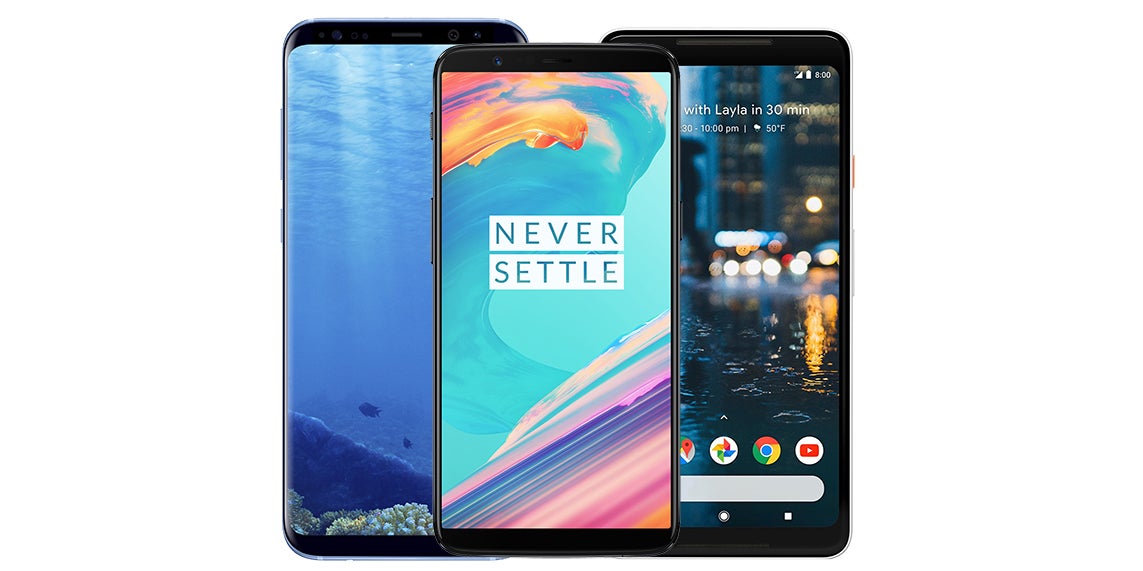 Jumping on the bezel-less trend, OnePlus just announced a new flagship device that's imbued with its hopes of becoming a slightly more affordable alternative to the top smartphones out there - the OnePlus 5T is here with a flashy 2:1 bezel-less display and a dual camera to wage war on the Galaxies and iPhone X's of the world.
With a decent hardware arsenal on deck, the OnePlus 5T has the potenital of outshining just about any contemporary Android device you throw in the ring with it: packing a Snapdragon 835 and a whole lot of 8GB of RAM on board, the phone is as among the best-spec'd flagships out there as of now.
Add the 6-inch Quad HD AMOLED display and the dual camera, as well as the decent 3,330mAh battery at the rear, and you get a rather well-rounded hardware package that is quite unlikely to disappoint hardware geeks.
But let's directly compare the OnePlus 5T against two of the hotter Android devices out there now, the Galaxy S8+ and the Pixel 2 XL. Which one flaunts the superior hardware package? Let's find out!
HDR support, Scratch-resistant glass, Ambient light sensor, Proximity sensor
Scratch-resistant glass, Ambient light sensor, Proximity sensor
Oleophobic coating, Scratch-resistant glass, Ambient light sensor, Proximity sensor
Qualcomm Snapdragon 835 MSM8998 (10 nm)
Qualcomm Snapdragon 835 MSM8998 (10 nm)
Qualcomm Snapdragon 835 MSM8998 (10 nm)
Octa-core, 2450 MHz, Kryo 280, 64-bit
Octa-core, 2350 MHz, Kryo 280, 64-bit
Octa-core, 2450 MHz, Kryo 280, 64-bit
Adreno 540
Adreno 540
Adreno 540
64GB
128GB, not expandable
128GB, not expandable
Android (9.0 Pie, 8.0 Oreo, 7.0 Nougat), Samsung One UI
Android (11, 10, 9.0 Pie, 8.1 Oreo, 8.0 Oreo)
Android (10, 9.0 Pie, 8.1 Oreo, 8.0 Oreo, 7.1 Nougat), OnePlus OxygenOS UI
Qualcomm Quick Charge 2.0
USB Power Delivery
OnePlus Dash Charge
34.00 hours
the

average

is 17 h (996 min)
4.3 days (103 hours)
the

average

is 20 days (472 h)
24.00 hours
the

average

is 19 h (1110 min)
3G: 14 hours; LTE: 16 hours; Wi-Fi: 15 hours
Single camera
Single camera
Dual camera
12.2 MP (OIS, Laser and PDAF, CMOS image sensor)
Aperture size: F1.7; Focal length: 26 mm; Sensor size: 1/2.55"; Pixel size: 1.4 μm
Aperture size: F1.8; Focal length: 27 mm; Sensor size: 1/2.6"; Pixel size: 1.4 μm
Aperture size: F1.7; Focal length: 27 mm; Sensor size: 1/2.8"; Pixel size: 1.12 μm
20 MP (PDAF)
Aperture size: F1.7; Focal Length: 27 mm; Sensor size: 1/2.8"; Pixel size: 1 μm
3840x2160 (4K UHD) (30 fps), 2560x1440 (QHD), 1920x1080 (Full HD) (60 fps), 1280x720 (HD) (240 fps)
3840x2160 (4K UHD) (30 fps), 1920x1080 (Full HD) (120 fps), 1280x720 (HD) (240 fps)
3840x2160 (4K UHD) (30 fps), 1920x1080 (Full HD) (60 fps), 1280x720 (HD) (120 fps)
HDR, Time-lapse video, Hyperlapse, Continuous autofocus, Object tracking, Picture-taking during video recording, Video light, EIS, Video calling, Video sharing
OIS, EIS, Video calling, Video sharing
Time-lapse video, Picture-taking during video recording, EIS, Video calling, Video sharing
8 MP
8 MP
16 MP
2560x1440 (QHD) (30 fps)
1920x1080 (Full HD) (30 fps)
1920x1080 (Full HD) (30 fps)
6.28 x 2.89 x 0.32 inches (159.5 x 73.4 x 8.1 mm)
6.22 x 3.02 x 0.31 inches (157.9 x 76.7 x 7.9 mm)
6.15 x 2.95 x 0.29 inches (156.1 x 75 x 7.3 mm)
6.10 oz (173.0 g)
the

average

is 6.5 oz (184 g)
6.17 oz (175.0 g)
the

average

is 6.5 oz (184 g)
5.71 oz (162.0 g)
the

average

is 6.5 oz (184 g)
Back: Glass (Corning Gorilla Glass 5); Frame: Aluminum
Back: Aluminum, Glass
Back: Aluminum
Water, Dust; IP68
Water, Dust; IP67
Iris scanner, 2D Face unlock, Fingerprint (touch)
Fingerprint (touch)
2D Face unlock, Fingerprint (touch)