Sony announces Xperia Ear headset and in-car Bluetooth commander
4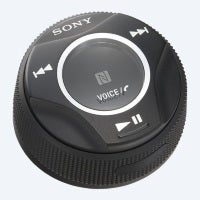 Together with its brand new Xperia X smartphone line-up, Sony took the opportunity to announce a wireless earpiece and in-car Bluetooth commander. First things first, the Xperia Ear is a "next-gen" wireless ear-piece that takes advantage of the handset's connectivity to provide you with relevant information such as your schedule, weather, and the latest news. It's powered by Sony's voice recognition engine and responds to verbal commands, which means you can ask it to make a call, perform an internet search, dictate a message, or navigate to a certain location.
Voice connectivity lets you call up smartphone functions by speaking commands.
Ear connects to your Android smartphone via NFC or Bluetooth® and hooks up with a host application, where you can customize settings, including the info you need when you first connect in the morning, touch commands, and app notifications. The ear-piece is lightweight and has a soft silicone ear-bud built for continuous wear, with IPX2 water-protection and all-day battery life. The device is sold in Graphite Black and comes with an attractive, Zippo lighter-like case that doubles as a charger, so you can simply pop it in when you need to recharge.
Next up, the obscurely named RM-X7BT is an in-car Bluetooth® commander gadget which enables wireless music streaming and hands-free smartphone functions. It too uses Sony's voice technology to let you activate various smartphone functions while driving. There are two units to it – an 'adaptor' module that enables wireless audio streaming and hands-free calls, and a 'commander' that handles smartphone functions (such as navigation), all while driving safely.
Both gizmos will go on sale this summer.