Sony Xperia Z4 might sport a Quad HD display after all
99+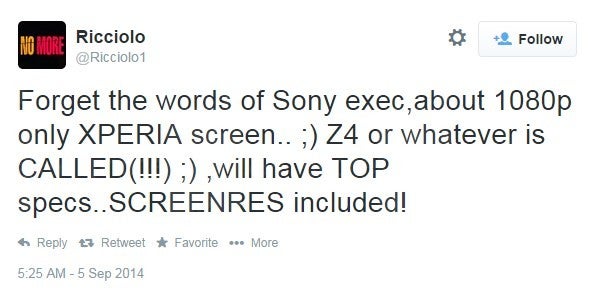 Judging from Sony's recently-coined tradition, the
Xperia Z3
has barely been announced the other day, and the company is already plotting its successor, to come in six months like clockwork, likely around the MWC 2015 expo in the spring. We can quite reasonably expect this one to be stuffed to the gills with the latest and greatest, such as at least a Snapdragon 805 processor, and maybe even the mighty Snapdragon 810, if Qualcomm manages to churn so many of those out of the gate. The renowned Exmor camera might even get optical image stabilization and whatnot, who's to blame them.
When it comes to the screen part, though, the latest info from a Sony exec is that
they don't really care about Quad HD screen resolution for now
, as it is a battery and brightness hog with little added value. Those were the precise words that the guy gave in an interview, but let's not forget these are just words, likely uttered to justify the 1080p panel of the Z3. The Xperia Z4, however (yep, already getting tips on that one), might be an entirely different ballgame, according to the famed Sony leaker Ricciolo. He just tweeted something that might be interpreted as if the Sony Xperia Z4, or whatever it's called, will actually have a Quad HD panel, alongside other bombastic specs. We shall see.