Sony Xperia Z1f outsells iPhone in Japan, gets compared to Apple's bread and butter
49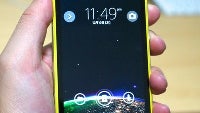 The Sony Xperia Z1f, the
'mini' reincarnation of the Sony Xperia Z1 flagship
, is already on sale in Japan, and has quickly climbed to the top of the charts. It has actually become the best selling device in the country of the rising sun last week, beating the iPhone 5s in popularity. Quite the achievement, but still - it's all limited to just one market.
Sony has not yet unveiled official plans to bring the 'mini' Xperia Z1 (be it called a Z1s, Z1 'mini', 'Amami' or whatever Sony calls it) outside Japan. When will this happen? There's no official information, but this moment might be edging closer as all eyes and hopes are on CES, the early January show that sounds like a perfect venue for the official unveiling of an international Z1f.
That rumored international Xperia Z1 'mini' should be almost identical to its Xperia Z1f Japanese cousin. This means we expect to see a 4.3" 720p IPS display, a 2.2GHz quad-core Snapdragon 800 system chip, 2GB of RAM and - most importantly - the same great 20.7-megapixel camera as on the Xperia Z1. What we already know for sure from the Japanese launch of the Z1f, though, is that price won't be cheap. The Xperia Z1f costs just slightly less than the flagship Z1, but still definitely in the high-end segment of the market. On a more positive note, the Xperia Z1 'mini' - if it indeed follows the steps of the Z1f - might have one of the best battery lifes we've seen on a smartphone. The smaller 2300mAh cell on the Z1f has shown up extremely strong in initial battery tests, beating the 3000mAh Xperia Z1 in longevity.
Summing it all up, it's clear that the most exciting thing about the Xperia Z1 'mini' is that it's expected to become the first Android smartphone that is both compact and does not compromise on specs. So far, we've had 'mini' handsets made by Samsung and HTC, but both were hugely underpowered modifications of their flagships for the year. The Xperia Z1 'mini' should be different.
Its compact size obviously puts the alleged Xperia Z1 'mini' straight against the similarly compact iPhone 5s. And to illustrate just how similar the two devices are, images straight out of Vietnam put the two alongside each other. The Z1 mini is a bit larger than the iPhone, and it's thicker too, but the difference is really not that big. The Sony device also comes with the advantage of being water and dust resistant. An interesting matchup, isn't it? To get a taste of it, feel free to look at the images right below, faring the Japanese Xperia Z1f against the iPhone 5s and 5.
source:
Sonyviet
(translated)