Sony Xperia XZ3 vs XZ2 Premium vs XZ2: Main differences
6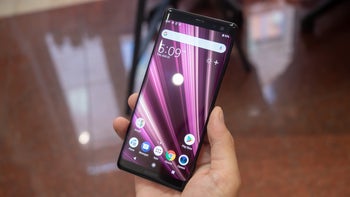 Internally, the
XZ3
shares most of the components of the
XZ2
and
XZ2 Premium
version. It has the same Snapdragon 845 CPU and Adreno 630 GPU, same amount of storage: 64 GB and 4 GB of RAM, which is 2 less than the
XZ2 Premium
. If you scroll through the specs sheet below, you'll see most other features are the same on all three phones, so what's new?
The main new feature is the QHD+ HDR OLED display that comes with the
XZ3
. This is a first for Sony when it comes to OLED, a premium feature it's been missing from previous flagship phones. The OLED screen is bigger, 6-inches, and the resolution splits the difference between the two other models with 1440 x 2880 pixels. The display will provide superior viewing experience, compared to its predecessors, in terms of color reproduction and high contrast ratios, thanks to the HDR support.
Another difference is the improved front camera that has F1.9 aperture for better low-light performance and can use bokeh and beauty functions at the same time. Meanwhile, the XZ3 drops the double camera setup of the
XZ2
Premium and has a single 19 MP censor.
The speakers also receive an upgrade and are now 20% larger with wider frequency range.
Despite the bigger display and speakers, the XZ3 has the same lenght as the XZ2 Premium, but is a bit narrower. The full specs comparison between the three phones is below, but if you want to put it against other models, you can use our
phone comparison tool
.
700 cd/m2 (nit)
900 cd/m2 (nit)
550 cd/m2 (nit)
HDR support, Scratch-resistant glass, Ambient light sensor, Proximity sensor
HDR support, Scratch-resistant glass, Ambient light sensor, Proximity sensor
HDR support, Scratch-resistant glass, Ambient light sensor, Proximity sensor
Qualcomm Snapdragon 845 SDM845
Qualcomm Snapdragon 845 SDM845
Qualcomm Snapdragon 845 SDM845
Octa-core, 2800 MHz, Kryo 385, 64-bit, 10 nm
Octa-core, 2800 MHz, Kryo 385, 64-bit, 10 nm
Octa-core, 2800 MHz, Kryo 385, 64-bit, 10 nm
Adreno 630
Adreno 630
Adreno 630
Android (9.0 Pie, 8.0 Oreo)
Android (9.0 Pie, 8.0 Oreo)
Android (9.0 Pie)
Qualcomm Quick Charge 3.0, USB Power Delivery
Qualcomm Quick Charge 3.0, USB Power Delivery
USB Power Delivery
12.20 hours
the

average

is 17 h (996 min)
13.30 hours
the

average

is 17 h (996 min)
13.30 hours
the

average

is 17 h (996 min)
24.6 days (590 hours)
the

average

is 20 days (472 h)
22.9 days (550 hours)
the

average

is 20 days (472 h)
21.7 days (520 hours)
the

average

is 20 days (472 h)
23.00 hours
the

average

is 19 h (1110 min)
26.50 hours
the

average

is 19 h (1110 min)
23.80 hours
the

average

is 19 h (1110 min)
26.2 days (630 hours)
the

average

is 0 days (0 h)
25.0 days (600 hours)
the

average

is 0 days (0 h)
22.9 days (550 hours)
the

average

is 0 days (0 h)
24.6 days (590 hours)
the

average

is 0 days (0 h)
23.8 days (570 hours)
the

average

is 0 days (0 h)
21.7 days (520 hours)
the

average

is 0 days (0 h)
85.00 hours
91.00 hours
84.00 hours
16.00 hours
11.70 hours
11.80 hours
Single camera
Dual camera
Single camera
19 MP (Laser and PDAF, CMOS image sensor)
19 MP (Laser and PDAF, CMOS image sensor)
Aperture size: F2.0; Focal length: 25 mm; Sensor size: 1/2.3"; Pixel size: 1.22 μm
Aperture size: F1.8; Focal length: 25 mm; Sensor size: 1/2.3"; Pixel size: 1.22 μm
Aperture size: F2.0; Focal length: 25 mm; Sensor size: 1/2.3"; Pixel size: 1.22 μm
12 MP (Black and White, Laser and PDAF, CMOS image sensor)
Aperture size: F1.6; Focal Length: 25 mm; Sensor size: 1/2.3"; Pixel size: 1.55 μm
3840x2160 (4K UHD) (60 fps), 1920x1080 (Full HD) (960 fps), 1280x720 (HD), 640x480 (VGA)
3840x2160 (4K UHD) (30 fps), 1920x1080 (Full HD) (960 fps), 1280x720 (HD) (960 fps)
3840x2160 (4K UHD) (30 fps), 1920x1080 (Full HD) (960 fps), 1280x720 (HD) (960 fps)
HDR, Time-lapse video, EIS, Video calling, Video sharing
HDR, EIS, Video calling, Video sharing
HDR, Time-lapse video, Hyperlapse, EIS, Video calling, Video sharing
5 MP
13 MP
13 MP
1920x1080 (Full HD) (30 fps)
1920x1080 (Full HD) (30 fps)
1920x1080 (Full HD)
6.02 x 2.83 x 0.44 inches (153 x 72 x 11.1 mm)
6.22 x 3.15 x 0.47 inches (158 x 80 x 11.9 mm)
6.22 x 2.87 x 0.39 inches (158 x 73 x 9.9 mm)
6.98 oz (198.0 g)
the

average

is 6.5 oz (184 g)
8.32 oz (236.0 g)
the

average

is 6.5 oz (184 g)
6.81 oz (193.0 g)
the

average

is 6.5 oz (184 g)
Back: Glass; Frame: Aluminum
Back: Glass; Frame: Aluminum
Back: Glass (Corning Gorilla Glass 5); Frame: Aluminum
Water, Dust; IP68
Water, Dust; IP68
Water, Dust; IP68
Fingerprint (touch)
Fingerprint (touch)
Fingerprint (touch)
Notification light
Notification light