Sony Xperia XZ3 vs OnePlus 6: one is twice the price, so is it twice as good?
16
The OnePlus 6 may not be the best smartphone out there, but it is surely the top offering in its price category. Priced at $529, it delivers top specs, beautiful design, and fast, bloat-free software. The recently announced Sony Xperia XZ3 will cost 70% more – a cool $900 – when it is released in mid-October. But is it going to be 70% better than the OnePlus 6? And what makes these two high-end phones different, anyway?
Design
Just as every other high-end smartphone of today, the Sony Xperia XZ3 and the OnePlus 6 are made of glass and metal – a stylish, modern, likeable combination of materials. As long as you don't mind the fingerprints, of course. Our microfiber cloth was always at the ready as we were taking the photos for this article. As far as looks go, the XZ3 takes a step further by adding a curve to the side edges of its display. This is mostly done to make the phone look cooler alongside its competitors. Both handsets are fairly large, but the XZ3 feels heavier in the hand.
Sony's new flagship is also taller than the OnePlus 6, but there's a couple of good reasons for that. First of all, the Xperia XZ3 has a pair of stereo front-firing speakers housed inside its larger bezels, while the OnePlus 6 has just a single bottom-firing speaker. Also, the XZ3 doesn't have a notch at the top of its display.
Yet extra points go to OnePlus for retaining the headphone jack – a feature that the creator of the Walkman dropped in the XZ2 six months ago. Also, we really appreciate the unique and nifty alert slider which lets us mute the OnePlus 6 without even looking. The Xperia XZ3, on the other hand, has a proper, IP68 water- and dust-resistance rating and a dedicated camera button, unlike the OnePlus 6.
Display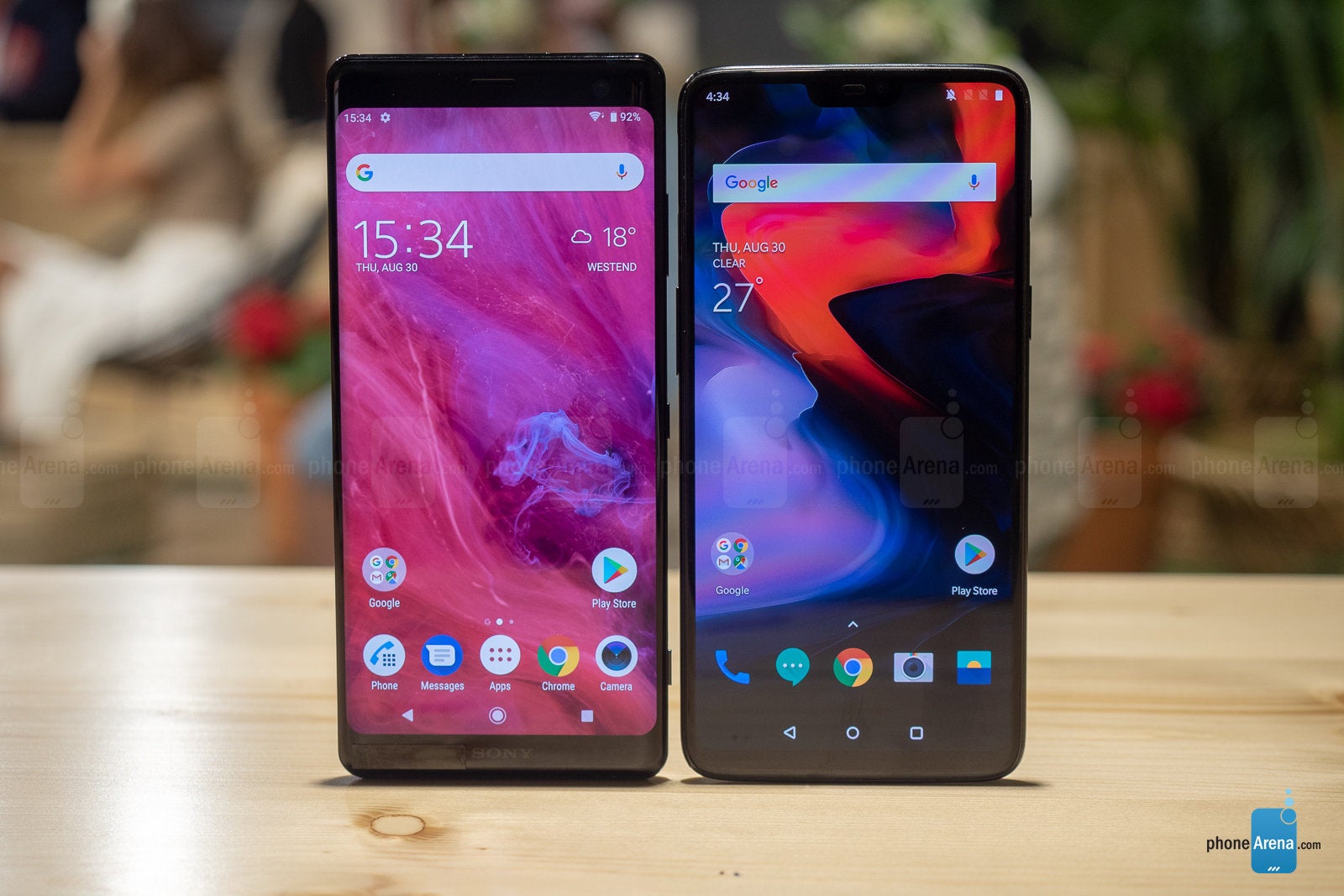 The Xperia XZ3 is the first Sony phone to boast an OLED display, and admittedly, it looks great in person – with high contrast and high resolution (QHD+, 1440x2880 pixels). The OnePlus 6 comes with an OLED panel as well, and while it is bigger at 6.3 inches – vs 6 inches for the XZ3 – it is of lower resolution (1080x2280 pixels). In addition, the Xperia XZ3 can play back HDR content across more services, including Netflix, while the HDR compatibility of the OnePlus 6 is more limited.
Processor and memory
The Snapdragon 845 is the most powerful mobile chip an Android phone can offer right now, and it powers both the OnePlus 6 and the Xperia XZ3. However, while the Xperia XZ3 has 4GB of RAM, the OnePlus 6 comes in 6GB and 8GB configurations, which makes it more future-proof and better at handling many heavy apps. OnePlus is more generous with storage as well, offering 64, 128, and 256GB options at reasonable prices, while the XZ3 and its 64 gigs built in can only be expanded via microSD cards.
Software and interface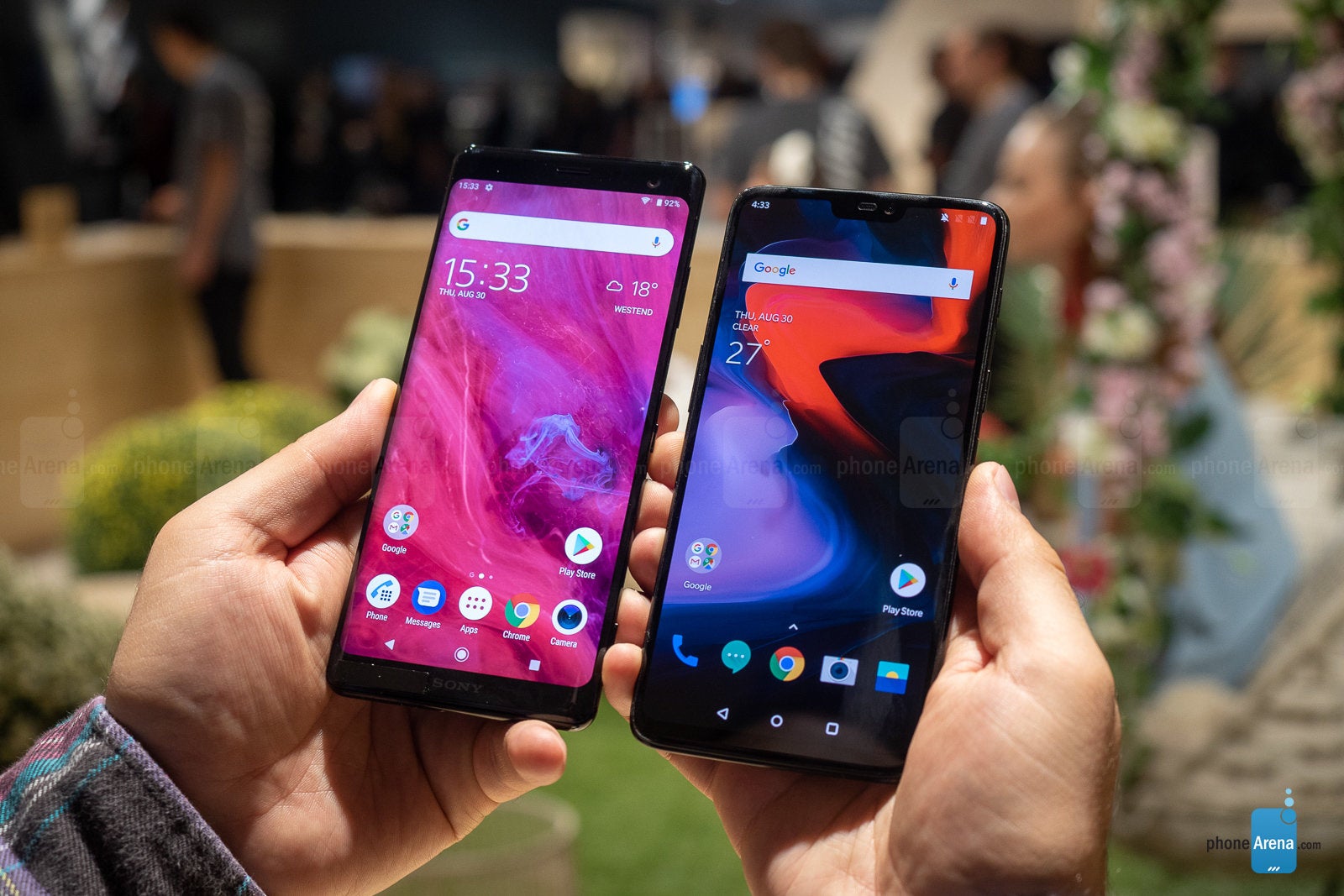 When the OnePlus 6 was released earlier this year, it introduced us to the company's first attempt at a gesture-based interface. It was a decent effort, but as we said in our
OnePlus 6 review
, we weren't satisfied with the experience and chose to stick with classic, on-screen buttons instead. And on-screen buttons is also what you get on the XZ3, as Sony has chosen to pass on Google's Android 9 Pie navigation gestures. Yup, the Xperia XZ3 will come with the latest Android version once it is released, while the Android 9 update release date for the OnePlus 6 is still TBA.
Both Sony and OnePlus favor clean, clutter-free software experiences, with only minor practical additions thrown in for convenience. The OnePlus 6, for instance, has the so-called Shelf screen where widgets and shortcuts to frequently used apps are displayed. The Xperia XZ3 takes the fancy route by turning the curved edge of its screen into a shortcuts bar. A feature called Side Sense, tapping the edge twice displays a list of apps and toggles for common functions. Fair warning, though: whether Side Sense works reliably or not will be known only when we get our hands on a finalized, retail Xperia XZ3 unit.
Camera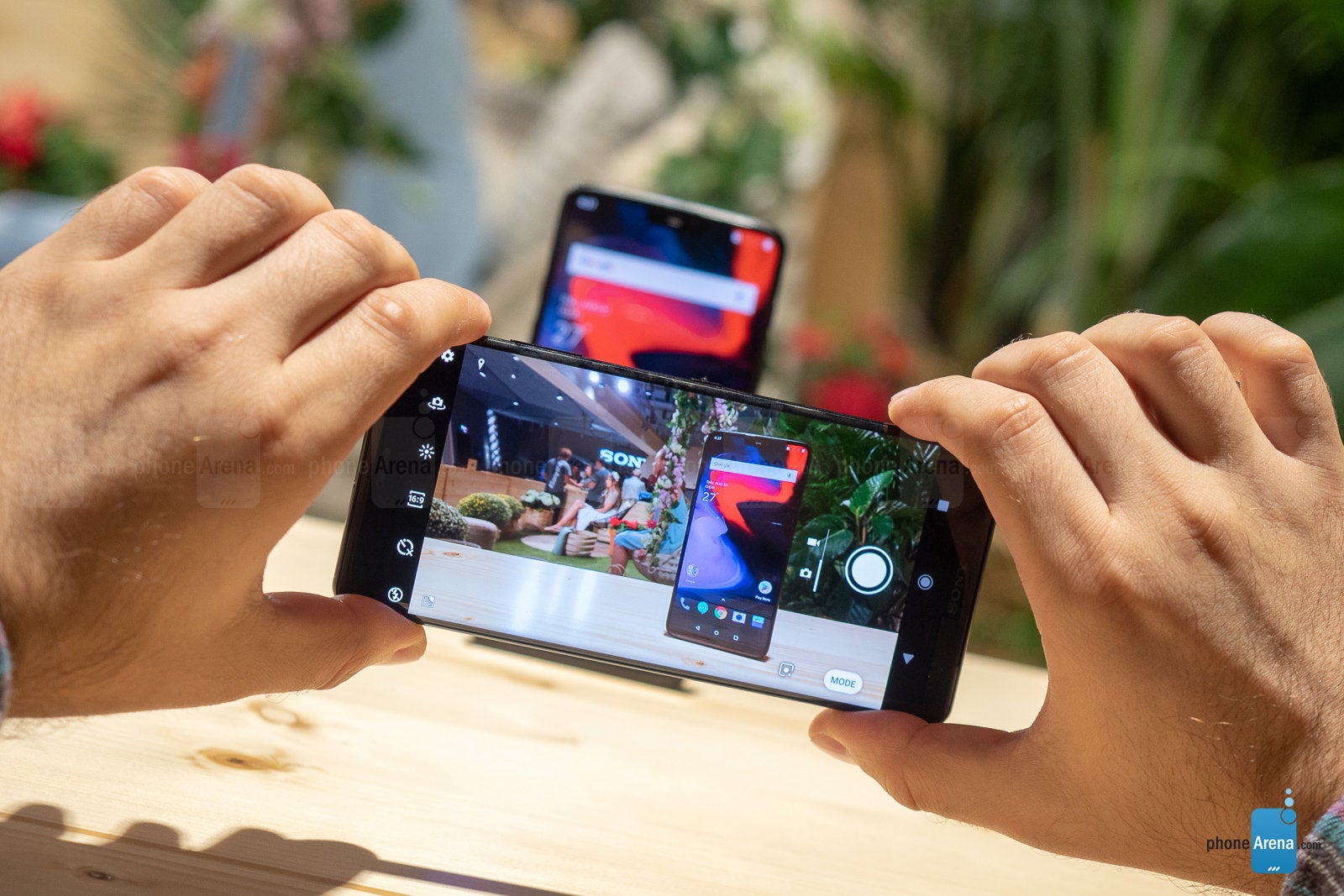 For the Xperia XZ3, Sony has chosen to stick with the same 19MP MotionEye camera from the XZ2. Having used the latter extensively, we can confirm its capability to take good photos, although its low-light performance can't quite match that of high-ends like the Pixel 2 or the Galaxy S9, presumably due to the lack of optical image stabilization. Could software improvements change things for the better? In any case, we don't expect the OnePlus 6 to be a less-capable shooter with its 16MP camera with OIS.
On the software front, one of the niftiest Xperia camera features is Predictive Capture, which detects flawed, blurry photos, and suggests alternative photos – photos that it has automatically buffered into its memory for you. On the OnePlus 6, the secondary camera is used to enable bokeh effects – for those trendy portrait shots with blurred backgrounds.
And when it comes to video, both phones naturally top off at 4K resolution, but the Xperia XZ3 has a couple of neat tricks up its sleeve. Firstly, it is one of the very few phones that can record 4K HDR video. Secondly, it shoots 1080p slow-motion videos at up to 960fps vs 720p at 480fps for the OnePlus 6 – although Sony's super slow-motion mode is less convenient to use since it requires more precise timing.
Battery life and charging
With cells of around 3300mAh, both phones are on the same page when it comes to battery capacity. Both support rapid charging as well, although they do it differently. The Sony Xperia XZ3 relies on the USB Power Delivery standard, which makes it compatible with a broad range of cables and chargers. The OnePlus 6 uses the proprietary Dash Charge standard, meaning that rapid charging works only with a OnePlus charger and a OnePlus cable – but you can charge your phone rapidly even while it is actively used. Wireless charging is only offered on the Xperia XZ3.
Expectations
It is clear that both the Sony Xperia XZ3 and the OnePlus 6 belong to the high-end smartphone category, but they seem to be tailored for different audiences. The Sony Xperia XZ3 is for people who simply want a premium handset with great multimedia capabilities and appreciate neat extras like stereo speakers, water resistance, and wireless charging support. Meanwhile, the OnePlus 6 is an enthusiast-grade device for people who pay close attention to specs and value a more practical, less gimmicky approach to software.
But ultimately, the pricing of the OnePlus 6 remains the top reason to pick one over any other high-end phone. Starting at $529, it delivers more value than any phone in its category. On the other hand, if cost is not an issue and you want a phone that has it all, the Xperia XZ3 could be a more fitting choice. Though of course, Sony's flagship will have to go through our full, in-depth review procedure before it gets our blessing.