Sony Xperia Tablet S introduced: first Sony tablet under Xperia brand
16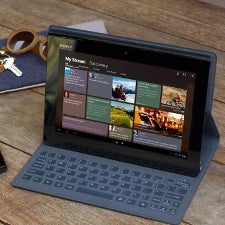 Sony's debut tablets, the Tablet S and Tablet P, weren't what you'd call great success stories, mainly due to steep price-tags, strong competition and market that wasn't yet ready for so many devices.
The opportunities in the industry are now somewhat bigger, though, and Sony obviously doesn't want to lose its presence in the tablet world, as it has now unveiled what seems to be the spiritual successor to its Tablet S, the
Sony Xperia Tablet S
!
With the Xperia Tablet S, the Japanese have emphasized on what they are so good at – design. The Xperia Tablet S is a very elegant device, with a thin body and a nice, differentiating fold element at the upper end. Sony fit a sizable bright 9.4-inch IPS LCD display with an okay resolution of 1280 x 800 pixels.
The device comes with Android 4.0 Ice Cream Sandwich, but Sony has promised it will soon bump it up to Jelly Bean. Powering the device is a quad-core Tegra 3 processor, so we can be sure that performance will be top-notch, as long as Sony doesn't mess something up as far as software goes. The camera of the Xperia Tablet S should be pretty decent, with Sony's great heritage in this area. The Tablet S comes with an 8-megapixel main unit, complemented by a 1-megapixel front-facing one. When it comes to ports you have a full-sized SD port, USB and HDMI. The tablet keeps the IR sensor from the original Tablet S and doubles as a remote control.
Where this tablet truly shines, though, is accessories. Sony is bringing a $99 Cover with Keyboard case, a thin keyboard that looks pretty much like the one on the Microsoft Surface, and a $99 docking stand that puts the tablet up on a pedestal like a TV.
On the software front, Sony brings its Music and Video Unlimited apps as a trial and a neat Guest Mode where you can set parental controls.
Finally, the Sony Xperia Tablet S prices are $399 for the 16GB model, $499 for the 32 gig version and $599 for the 64GB tablet. You can pre-order the Xperia Tablet S today, with the
release date set for September 7th
.


source: Sony