Sony Xperia S or Samsung Galaxy S II - that is the question!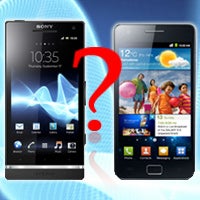 PhoneArena Knows Best is our advice column. You can send us your questions about anything mobile-related at the following email, and we'll do our best to answer the most interesting of them. We're waiting for your inquiries at:
phonearenaknowsbest@gmail.com
It's once again PhoneArena Knows Best time, and the question that we're dealing with this time comes from our reader Dejan Gogic, who is in a desperate need of a new smartphone. He seems to be well aware that the iPhone 5 and Galaxy S III are not too far away, but waiting is not an option. Because of this, he seems to be torn between these two smartphones - the Sony Xperia S and the Samsung Galaxy S II - and is looking for our help. Here's the full message:
Dejan Gogic:
Hello phonearena!
Help!I am in a huge "trouble".I need a good phone fast and i can't wait for SGS3 or Iphone 5.So here are two hopefully good replacements,but what I need to know is which one is better?And if you can recommend any other phone please do so.Just help!
OK, here's what we think: Both of these are spectacular devices that won't disappoint you. The Xperia S has an
edge
in the specs department (here's
a detailed specs comparison
between the two). First of all, it has a significantly better screen, which is of higher resolution (720x1280), and displays more accurate colors, whereas the Galaxy S II's Super AMOLED panel might be impressive with its very saturated and contrasting colors, but in reality it's on the colder side.
In case the camera is of vital importance to you, we should note that the Xperia S can take a picture faster, and it also shoots in a higher resolution - 12MP, which allows it to capture some additional detail in the photos.
If we look at their casings, it's easily noticeable that the Galaxy S II is much thinner and lighter, whereas the Xperia S will be taking a bit more space in your pocket. So, you might want to consider this in case the dimensions of the device are important to you.
Software wise, the Galaxy S II is currently better-positioned, as it's already running Android 4, while the Xperia S is yet to be updated.
If you are into modding and installing custom ROMs, then we guess you'll find much more joy with the Galaxy S II, as it is more popular and has been longer on the market. The latter is also the reason why we believe that you'll be able to buy it at a more reasonable price, compared to the Xperia S.
These were the important differences between these two beasts. The final choice is yours, of course, but overall, what's good here is that you won't make a mistake with either of these.
The cool thing about PhoneArena is that we're a whole community here! :) So, let's hear what you guys thing about this clash, maybe you have a different opinion? Now's the perfect time to share it! Which one would you prefer?
PhoneArena Knows Best is our advice column. You can send us your questions about anything mobile-related at the following email, and we'll do our best to answer the most interesting of them. We're waiting for your inquiries at: