Sony Ericsson Xperia active Hands-on
19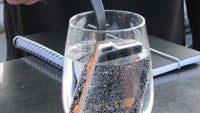 The rugged-phone market was given a heavenly revamp in the form of the
Motorola DEFY
, taking a dumb-phone filled space and injecting it with some much needed Android goodness. Off the back of its success comes the
Sony Ericsson Xperia active
. Coupling ruggedness with a heart-rate monitor and pre-loaded fitness apps, the active looks up to all the hazards a physically active life might throw your way.
The Sony Ericsson Xperia active houses a 1GHz processor and a 3" screen with a resolution of 320 x 480 pixels. What's great about the capacitive screen is that it even manages to track your fingers when wet. Why might this be handy? Because the Sony Ericsson Xperia active is waterproof up to three feet (1m) for up to 30 minutes. It's also dust-proof sealed and comes loaded with a compass and barometer, as well as apps like Personal Trainer, Pulse Watch (coupled with a strap-on heart rate monitor) and Pedometer. The cherry on the cake comes in the form of the 5MP camera on board capable of capturing HD video. You might be thinking that most of the specs are strikingly similar to the Xperia Mini line and you'd be correct. In turn, the UI is practically identical with the four corners of the screen each accommodating a number of shortcuts to apps.
As it's always a pleasure to see something a little bit different that's still loaded with decent specs, the Sony Ericsson Xperia active ticks quiet a few boxes for us. However, with the Samsung Xcover announced at IFA 2011, it looks Sony Ericsson has some imminent competition on this front, so stay tuned as we'll be sure to put both handsets through their paces in our full reviews.
Sony Ericsson Xperia active Demonstration: