Sony Ericsson G705 is bound for Internet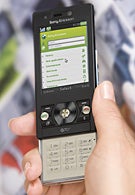 Today, Sony Ericsson announced the fourth phone coming in the G-series. After the
G900
, G700 and the small
G502
, here comes the first slider in the series, the G705. Like the G502, it is a non-smart phone, but has integrated HTML browser. G502 is an example of Sony Ericsson's decent job on the browser, making it trouble free to use on daily basis. As the K660, the right keypad row has a few symbols that are illuminated only while using the browser, showing what their shortcut function is. The accelerometer will switch the interface orientation from portrait to landscape and vice versa when the phone is tilted, thus saving you the need to go through the menus.
Sony Ericsson announced a partnership with Google, using it as the default search engine in the browser and including YouTube. G705 will be the first YouTube-friendly phone of the manufacturer, allowing users to upload and download videos to and from the popular site.
The display of the G705 is decently sized and at 2.4" it is neither small nor makes the phone bulky. Other features include a
3.2
-megapixel camera with flash and video capture, but there are no details on the size it saves the video clips in. We hope it will be VGA at 30fps, allowing you to watch them in high quality after they have been uploaded to YouTube. However, knowing Sony Ericsson well, we guess it will be just the standard QVGA. G705 also features integrated Wi-Fi and aGPS for navigating, using either the free Google Maps or the bundled trial version of Wayfinder.
Sony Ericsson announced three G705 variants. The one bound for the American market is a global 2G/3G device, as it is a quad-band GSM and tri-band (850/1900/2100 MHz) UMTS phone, supporting HSDPA and HSUPA for high-speed download and upload. The main European model is also a quad-band GSM but has only single-band UMTS/HSDPA (2100 MHz) and doesn't support HSUPA. The third version, exclusive to the operator Orange, will be called G705u and will feature UMA. This would allow it to utilize the integrated Wi-Fi for making calls without using the carrier network (similar to the "Unlimited HotSpot Calling" that T-Mobile USA offers). The American version will be available in early Q1 2009, while the European models are expected earlier than that in Q4 of this year.
Sony Ericsson G705 Specifications
source: Sony Ericsson