Sonos integrates with Google Play Music for seamless streaming to speakers and players
3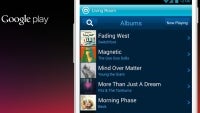 Wireless Hi-Fi purveyor Sonos believesit has found a "great partner" to bring its vision to life"for the first time on a global scale". Big words directedat a big company - Google. Starting today, owners of Sonos' Wi-Fispeakers can stream music directly from within the Google Play MusicApp, or stream Google Play Music from the Sonos app to the company'srange of hardware. You will be able to start a song in any roomvoiced by Sonos' stuff. If you happen to be an user of both, thenthis must feel like a bliss.
There are some requirements for theoperation, though. Your Android must be on the same Wi-Fi network asyour Sonos gadgets, and you must have the Sonos Controller app. Then,you are supposed to open Google Play Music, tap an icon in the upperright corner, and choose which speaker you'll be rocking out to. Ifyou'd rather listen through Sonos Controller, though, listening is assimple as choosing Google Play Music from the list of supporteddevices.
In addition, tapping the Chromecasticon with Google's Play Music app brings the option to stream musicto anywhere you happened to stick a Chromecast or three.
Sonos and Google Play Music's apps arefree and available for Android and iOS.
via AndroidCentral