Sonim XP Strike lands on Sprint, $130 get you one extremely durable phone
8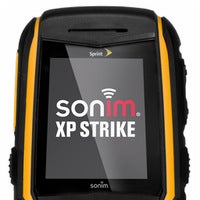 The Sonim XP Strike for Sprint is not your ordinary phone. It is one of those handsets that can withstand way more torture than the average phone is ever subjected to throughout its lifetime.
Yup, we're dealing with an extremely rugged phone here. The Sonim XP Strike is IP68 and 810G certified, which means that it is water-, dust-, and shock-proof. The device can also survive a 6.5-foot drop onto concrete and will even work after being submerged 6.5-feet underwater for up to 30 minutes. Moreover, there's a 1.8-millimeter-thick Gorilla Glass layer protecting the screen, and water-tight vents are keeping water away from the handset's built-in loudspeaker.
Sprint is offering the Sonim XP Strike for $130 on a 2-year contract after a mail-in rebate. Yes, we know that you can buy a smartphone for that much, but if resistance to the elements is of utmost priority, Sonim's durable offering would be the wiser pick.