Some images from around Google I/O 2014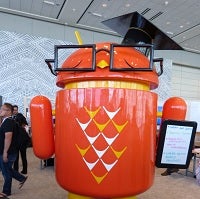 Google I/O 2014 has come, and has gone. It was only two days this year, and based on the activity throughout Moscone Center, the reduced number of sessions allowed more time for developers to interact with the exhibitors and check out sand-box areas too.
With all that was announced during the keynote, we could argue the conference should have been kept at three days. Android, as predicted, now casts a much wider net, and it is still centered and integrated with the smartphone we carry in our pockets (or on our hip).
If you compare the image put forth this year
compared to Google I/O 2013
, you will see things a bit more subdued for 2014. Even though the décor did not exude "festival," Google I/O is still a bit of a "Googlepalooza," with the mix of people from all over the world, in all shapes and sizes. It really is a meeting of some marvelously technically proficient minds.
Other than that, it was all about Android. Android L,
Android Auto
,
Android TV
,
Android Wear
, even Android apps on Chrome OS.
All-in-all it was an excellent conference. The framework set up to encourage developers to not lock themselves in session-after-session clearly generated the desired effect. Given the popularity of this conference, and the number of people who want to attend, we cannot help but think that at some point, a larger venue might be in order someday. As things were closing up, we brought that idea up to one of Google's PR reps and he agreed, adding that somewhere, "like the moon" should provide plenty of space.
Moonshots are definitely part of the mindset at Google, so while we will not expect lunar invitations for next year's conference, we could envision loads of Virgin Galactic flights making their way into the sky for just such an occasion someday.
Google I/O 2014