Some customers are seeing their upgrade dates updated in time for the new iPhone?
This article contains unofficial information.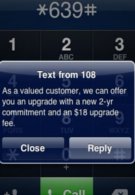 Two year commitments are somewhat tough to carry out through its entirety when there are so many good phones released throughout the year that can make it tempting. So far every year since 2007, Apple has been known to release a new version of the iPhone – which of course looks better price wise on a 2-year contract as opposed to its full retail cost. However, the one year gap in between new iPhone models generally keep some customers from purchasing it from the subsidized contract price due to the fact that they have not fulfilled the length of their contract to be deemed eligible for an upgrade. There is some hope as there are reports that some customers are seeing their upgrade dates being updated to make them eligible to purchase the upcoming new iPhone at a subsidized cost. After dialing *639#, some customers receive the message, "As a valued customer, we can offer you an upgrade with a new 2-yr commitment and an $18 upgrade fee." Great news for them as they can move right on in with the new model even after the fact that they're purchased the iPhone 3GS and still within the confines of their agreement term. Apparently AT&T likes to reward its higher paying customers as it's revealed that customer who spend more than $99 a month per line are deemed eligible to get an upgrade between 12 and 18 months into their agreement. Still it isn't too shabby for those eagerly awaiting for the unveiling of the new model, however, it does show how AT&T and Apple work closely hand-in-hand – but it would be nice if this move can be done for other handset launches aside from the iPhone.
Apple iPhone 3GS Specifications
|
Review
Apple iPhone 4G Preliminary Specifications
via
AppleInsider