Some Apple iPhone X units have a strange green line running down the edge of the display
99+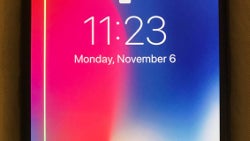 Some
Apple iPhone X
users are finding a strange green line running down the outer right or left edge of the OLED panel on the device. One theory is that a problem with the electrical system is causing multiple lines of green sub-pixels to light up on the screen, starting from the top of the display to the bottom. You might recall that last year,
a similar pink line marred the screen of the Samsung Galaxy S7 edge
. Samsung determined that the issue was caused by a hardware problem. Last year, several
Motorola DROID Turbo 2
owners
also complained about a vertical green line that appeared on their phone's display
.
So let's say that your brand new $1,000 iPhone X is suffering from this green line. What can you do? At least one person took his handset back to the Apple Store where it was replaced. That tells us a couple of things. One, this is not a problem that can be solved with a software update. Two, Apple is willing to make this right by replacing a unit that suffers from this issue.
At least 25 iPhone X owners have posted pictures across social media and on Apple's support pages, revealing this ailment. Right out of the box, these units appeared to be working perfectly, and reportedly none of the units were damaged. Instead, the green light appeared out of nowhere, running down either the left or right side of the phone. This seems to affect iPhone X models in various regions around the world, and in both the 64GB and 256GB variations. Turning the phone off and re-booting it doesn't get rid of the issue.
"So I was playing with my new phone and all of a sudden, this happened. It's a really bright line going down the entire right side of the phone."-Apple iPhone X owner
source:
@mix0matosis
via
MacRumors