So how much better is the new iPad's new camera?
12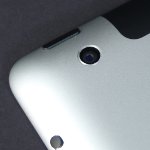 When the
Apple iPad 2
released last year, we were wowed by the immense upgrade over its successor in the original iPad – and for some, it was a comforting sight to find the tablet finally boasting a
camera
in the rear. Naturally, the thought of shooting photos or videos with a tablet is still attached with this awkward stigma, but nonetheless, it's simply nice having the option of doing that. However, it was soon quite evident that the iPad 2 didn't offer the same level of comfort and quality found with its sibling in the iPhone. In fact, we were appalled by the grainy, faint details, and overall poor quality produced by the iPad 2's less than 1-megapixel count camera.
Thankfully, Apple has outfitted the
new iPad
(3rd generation) with one that's worthy to stand in the same platform as the iPhone 4 and 4S before it. Why's that? Well, it's been bumped up to a
5-megapixel iSight camera
featuring an
F2.8 aperture lens
and a sensor with
backside illumination
. Those items alone already tell the inevitable improvement we're going to see with the new iPad. Furthermore, it now boasts full
1080p high definition video recording
with an anti-shake feature to keep things smooth and steady.
Admittedly, for a tablet, we're impressed with the results produced by the new iSight camera. Outdoors under sunny conditions, there is enough balance in various key aspects to make its shots worthy enough for an actual print out. Visually, details are
sharp
enough to accept, while its neutral color production and exposure keeps everything else in balance to inevitably deliver lovely shots. Conversely, it's still decent enough to use in low lighting situations, though, it exhibits more
grainy visuals
due to the increase in exposure. By doing that however, it's able to draw out details in the shots that are normally lost due to the limited amount of light hitting the camera.
Lastly, there's the 1080p video recording of the new iPad, which as expected, is considerably improved versus the murky results found with its predecessor. No doubt we dig the sharp looking visuals it's able to command, but we've seen better results with some other top-shelf smartphones. But for a tablet, we have full respect for what it has to offer. Indeed, we still might be reserved when it comes to taking photos or videos with a tablet, but as a last resort or only option, we wouldn't hesitate for one moment to use the new iPad.