Snaprdragon S4 thermal efficiency shown off using... butter
30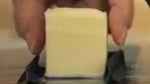 Smartphone owners have probably noticed that their handsets get pretty warm at times, especially when their processors are pushed to their limits. The guys at Qualcomm, however, want to convince you that the Snapdragon S4 chipsets are different. How do they do that? With butter, of course!
Here is the proof: in the video below you will see a Snapdragon S4 smartphone alongside two handsets of similar rank. All of them get wrapped in transparent plastic, and a slab of butter is placed on top. To no surprise, the competitors easily turn the butter into liquid while the Snapdragon S4 manages to keep things relatively cool. That is thanks to the chip's 28-nanometer architecture, which makes the silicon substantially more power efficient than the competition while keeping its performance up to par.
Now feel free to check out the video itself – the fun part begins around the 0:50 mark. Of course, do not hesitate to tell us what you think about Qualcomm's test by dropping a comment.