Smartwatches fail to live up to analysts' expectations, lack of defined purpose to blame
26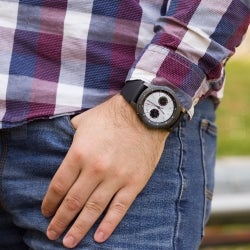 In the beginning of this year smartwatches were expected to be the next best thing after smartphones. They showed a lot of promise and there was significant hype around them. This is no longer the case, it seems.
The research company eMarketer estimated that 63.7 million Americans will use a wearable device with Internet connectivity at least once a month. The firm now acknowledged its incorrect prediction, dropping this number down to 39.5 million. The same company estimated that the usage of such devices will grow more than 60% among US adults in 2016. Instead, it only grew 24.7%.
"Before Apple launched its Watch, fitness trackers dominated the wearables space, and consumer surveys consistently found that tracking health and fitness was the main reason people were interested in wearables," said eMarketer analyst Cathy Boyle. "They also reported high price-sensitivity. Without a clear use case for smartwatches – which have more features than fitness trackers, but significant overlap with smartphone functionality – the more sophisticated, expensive devices have not caught on as quickly as expected."
This would certainly explain the
recent acquisition of the smartwatch company Pebble by Fitbit
, a company that manufactures fitness trackers. It appears that consumers are not ready to pay the higher price for a wearable, the features of which are already covered by basic fitness trackers and average smartphones.
Additionally, eMarketer predicts a slow growth for the smartwatch industry moving forward. According to the research company, this year only 15.8% of people will own a wearable, and the usage will grow to just 21.1% by 2020.
Do you think that eMarketer is correct, or do you still believe that smartwatches will rise to become the next consumer electronics king soon? Do let us know in the comments.
source:
eMarketer
via
BusinessInsider