Smartwatch prototype turns your arm into a touchscreen
16
A prototype smartwatch called the LumiWatch has been created by researchers at Carnegie Mellon University. The timepiece has a feature that allows it to project images on the user's arm that can be swiped and tapped. In other words, the LumiWatch turns the user into a touchscreen. The watch can project an image of up to 40 square centimeters, five times the size of a typical smartwatch display.
The researchers say that skin happens to be an attractive surface for projecting such an interactive display. Despite some physical and color distortions, the team working on the device says that skin offers high resolution, framerate and image quality. The best part about using the arm is that it allows for a much larger surface area than a watch display.
A 15-lumen projector is built into the watch, which is powered by a Snapdragon quad-core CPU running at a clock speed of 1.2GHz. There is 768MB of RAM inside, along with 4GB of native storage. Keeping the watch running is a 740mAh battery, and the LumiWatch supports both Wi-Fi and Bluetooth. Android 5.1 is pre-installed.
The researchers at Carnegie Mellon University believe that they can get this smartwatch into the marketplace priced at $600. It does measure 50mm x 41mm x 17mm compared to the 42.5mm x 36.4mm x 11.4mm dimensions of an Apple Watch Series 3 timepiece.
There is no word on when we might see the LumiWatch on the shelves of your favorite electronics retailer. In the meantime, you can see the LumiWatch in action by clicking on the video at the top of this story.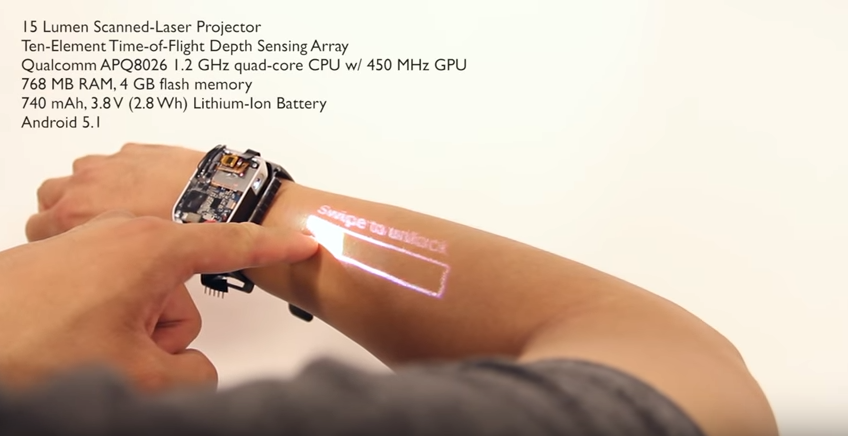 The LumiWatch projects an interactive touchscreen on the user's arm
source:
ChrisHarrison
via
TheVerge