Smartwatch battle: Apple Watch or Samsung Gear?
27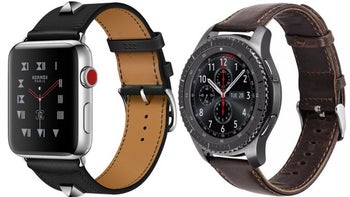 The smartwatch niche is a relatively quiet one. There are no big battles, no products trying to cannibalize each other. There are the
Apple Watch
, Samsung's Gear S watches, and then there are the Android Wear models that just can't get much publicity. So yeah, it's pretty much an "Apple vs Samsung" field.
On the Apple side, we've got the square-shaped Watch, which looks the same no matter which generation you pick. Aside from different materials used for the different price tiers, the design of a first-gen Watch is the same as the one on a Series 3. And, of course, Apple's wearable only syncs to Apple's ecosystem — you can't use it lets you have an iPhone.
Samsung went the opposite way — circular watches, which get different looks with every new iteration. Sammy also won the battery life battle long ago — the
Gear S3 Frontier
was capable of enduring 3 days on a single charge, and so is the
Gear Sport
. To top it off, you can pair a Gear smartwatch to an iOS device, meaning that even if you are an avid iPhone user, you can choose to go for a circular smartwatch, instead of sticking to the Apple Watch.
All that said — which camp are you in?