Smaller Surface to have a 7.5" display, price tag of $399 or less
22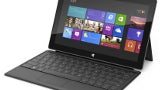 Microsoft has been rumored to be working on a smaller Surface for quite some time now, but we haven't really seen any specific facts regarding the device thus far. Today this changes as an NPD DisplaySearch analyst reports that Microsoft is looking to use a 7.5" display for its Surface mini tablet. Exactly where the analyst has gotten this info from remains unclear.
What's more, the 7.5" screen is said to be with a resolution of 1400 x 1050 pixels, which would make for a pixel density of 233 ppi. While this is more than what most tablets in this class can offer, it's very likely that by the time the small Surface comes out, the competition will be armed with similar or even higher resolutions. Unfortunately, NPD DisplaySearch says that the small Surface is still in the early stages of development and will probably enter mass production sometime in Q1 2014.
Meanwhile, Cnet has cited some other sources, who seem to be convinced that Microsoft will be looking to hit the $399 price-point with the Surface mini. Still, the sources also say that the price might be lower by the time the device launches. Even then, if Apple decides to keep the $329 price for its new iPad mini, which will probably have a much better resolution, we can once again see those Surfaces remain on the store shelves for quite some time with a price like this.
via:
Neowin
Recommended Stories