Slower market growth and lack of dynamics in IDC's latest long-term forecast, could it be mistaken?
19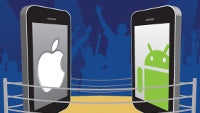 The International Data Corporation, IDC, has come up with a new long-term forecast that attempts to predict how the smartphone market is going to look like in 2019. And while it's not exactly a depressing forecast, let's just say it foreshadows the end of the wild and dynamic days of the mobile industry, which we're currently enjoying.
According to IDC's data, the growth of the global smartphone market is already showing signs of slowing down, with year-over-year growth in 2015 expected to stand at around 10.4%, down from the considerably more inviting 26.3% in 2014. Last year, IDC initially expected yearly growth in 2015 to reach 12.2%, but eventually lowered its forecast to 11.3%. Now, the research firm is adjusting its data once again, lowering it even further, to 10.4%. Still, if this number seems modest now, wait until you see IDC's year-on-year growth expectations for 2019: just 5.1%! Part of the reason for this could be that the Chinese market appears to be maturing, as its yearly growth in 2015 may end up being around 1.2%, down from 19.7% in 2014. If these trends happen to sadden you for some reason – don't worry, 2019 is so far off into the future that pretty much anything could change until then.
Speaking of change (or lack thereof), IDC doesn't seem to foresee any unusual activity from the big boys in the industry, predicting that Android is going to keep its current estimated global market share of 81.1% all the way until 2019, while iOS is seen to slightly decline, from 15.6% in 2015 to 14.2%. Factoring in the estimated growth rate of the industry, total Android shipments are expected to rise from 1.164 billion units this year to 1.541 billion in 2019. Meanwhile, Apple is said to ship 223 million iOS smartphones this year – a figure that is expected to rise to 269 million units in 2019.
All of this comes to show that IDC doesn't expect us to see any significant shifts in the Android-iOS dynamics during the following 5 years. This doesn't sound particularly fun to watch, but still, it also doesn't mean that tectonic plates won't shift within the Android world (IDC doesn't break data down by Android manufacturer). Plus, the firm's data can't foresee any possible breakthroughs in technology or innovation, so the numbers we just went through may turn out to be more or less inaccurate. After all, let's not forget that in 2011, IDC predicted that Windows Phone was to surpass iPhone sales by 2015. Talk about leeway!