Skyfire 3.1 for iPhone is now available
1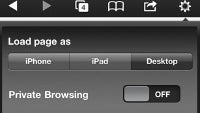 As long as Apple doesn't agree that its products should feature Adobe Flash (and let's face it - the Cupertino-based company is not going to do so any time soon), Skyfire will be a popular and viable option for all these Flash loving iUsers.
Truth is, it's a bestselling app in the App Store, and a new version of the Flash video-supporting browser is here - please welcome Skyfire 3.1. It sports a few improvements over the previous versions, as well as some new features which enhance the overall experience when browsing with Skyfire.
One of the first noticeable improvements is that this version of the browser gives you the "related sites" option - that's, if you open a Flash website which is not supported by Skyfire, the browser gives you a list of comparable video sites and content, as well as links to these sites. Another enhancement is that you can connect directly with Skyfire Labs' engineers and support team in case a site is not loading properly - they will look into the matter, so it may be a question of time before the said site is supported by Skyfire.
Two other improvements that Skyfire 3.1 offers is that you can easily switch between Safari, Desktop or iPad view, and that the new version is available in seven new languages - Italian, French, Portuguese, German, Japanese, Korean & Spanish.
Well, these are the main improvements Skyfire 3.1 offers over its predecessor. It's already available in App Store and costs $2.99.
source:
Apple
via
Electricpig UK