Skulls of the Shogun – a tactical squad-based strategy, now available for Android
13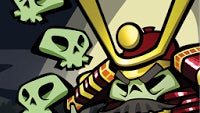 Skulls of the Shogun is a turn-based squad-centric tactical strategy, based in feudal Japan times. Well, to be precise, it takes place in the afterlife, during feudal Japan times. You play as a general, who has been betrayed and killed at the end of his last battle, and is now stuck in a purgatory of sorts. It doesn't take long before our hero decides that he is too cool to be treated as a common soul, so he assembles a squad of loyal followers and goes on to march against the guards of this land of the dead, on a mission to prove that he is a true Shogun.
The game was released in 2013 for the Xbox 360, Windows, and Windows Phone. Ports for OS X, iOS, and PlayStation consoles soon followed and, until today, the only major platform that wasn't graced by the Shogun's availability was Android.
Well, today you can get it from the Play Store for $1.99 (fully premium, no in-app purchases) and finally enjoy it on your Android-powered device.
The game is presented in a comically-animated style. There are plenty tongue-in-cheek lines and references to pop culture to keep you giggling in-between fights, and the game's plot gets more intricate as it unfolds. The combat is turn-based and there are lots of different soldier classes to mix and weave into different strategies and styles. The game further adds tactical depth with a knock-back mechanic (you can push enemies out of cover or off of cliffs), terrain physics (careful for that slippery ice!), and the ability to eat dead troops' skulls, in order to gain health and, eventually, gain more battle prowess.
To add value for you multiplayer junkies out there, there is also a PvP adversarial mode for up to 4 players. The matches are fast-paced and have an arcade feeling to them, regardless of the fact that the game is a tactical strategy. Being able to form temporary alliances with other players, in order to take down someone who has grown too powerful, adds and extra layer of in-game politics and backstabbing fun.
Download:
Android
($1.99) |
iOS
($2.99) |
Windows Phone
($4.49)