Since tells you how long it was since you did something with stats and stylish graphics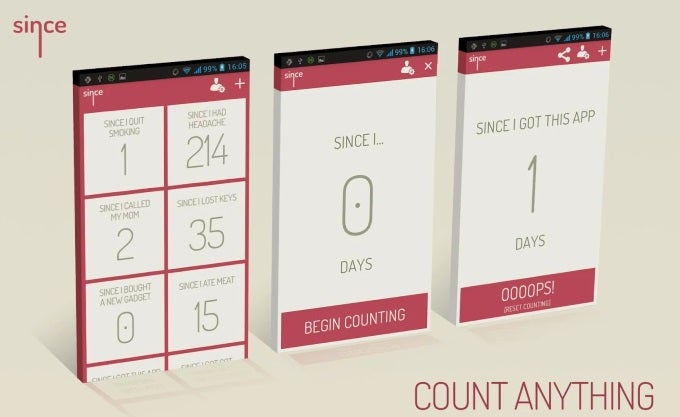 | | |
| --- | --- |
| Developer: Socialus Marketingas | Download: Android |
| Genre: Productivity | Price: Free |
In the old days, we used to count the days and weeks by writing lines on the walls. Apps like Since show how far we've come since those times. This is a beautiful, minimalistic app that does just this one thing - count the days passed since an event began. And it does it with the style and speediness of an iOS app.
How do you add your own event? Just press the Plus button, enter the text you desire, set the timer, and off you go. You can reset the counter or change the writing anytime you want to.
To prevent data loss, Since supports syncing with a server, which is totally automatic and doesn't take your attention in any way. You can also log-in with your Facebook account to share graphics of your counters on the network. These are the sole options that you'll find in the app's Settings menu.
Being perfect at what it was made to do, Since still requires some design work. Some of the buttons are placed too close next to each other, and figuring out all the functionality on your own at first isn't exactly intuitive. Perhaps a simple tutorial will be a welcome addition. Other than that, Since is just dandy. Get it from the Play Store, it's free.