Sharp Aquos SH930W 5-inch 1080p screen compared to One X, Galaxy S III
17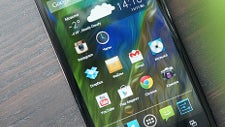 The Sharp Aquos SH930W might not have the name of a ground-breaking device, but with a 5-inch 1080p display, Android 4.1 Jelly Bean and a relatively affordable price it should catch your attention.
The Aquos SH930W is among the first devices with 1080p displays, and that's a feast for your eyes. We have already spoken about the device, but now we have the first reviews coming from Russia where the device should launch in December this year or January 2013.
It is almost impossible to discern pixels on the 5-inch S-CGS Sharp display. Colors are not overblown like on an AMOLED screen, and that's a big plus.
There are some compromises made, though, as the device undercuts even 720p smartphones like the Samsung Galaxy S III. The biggest one is the Snapdragon S3 chip inside this Sharp handset. That is a mismatch for the demanding display and some more demanding games and even 1080p videos stutter slightly.
The price of the device is 22,000 roubles (around $694), less than the 23,000 to 25,000 roubles the Galaxy S III sells for.
And finally, seriously, Sharp, as romantic as SH930W sounds to your ear, you should definitely consider changing those names to something a tiny bit simpler. We even have a couple suggestions: Sharp 5, or Sharp Full HD? For the sake of our sanity.
source:
Mobile-Review
Images courtesy of Mobile-Review.com